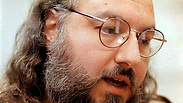 Jonathan Pollard
Photo: AP
Convicted Israeli spy Jonathan Pollard was hospitalized Wednesday night in a facility near the jail where he is held, due to a deterioration in his medical condition, the Committee to Free Pollard said in a statement.
A former civilian naval analyst, 59-year-old Pollard has been serving a life sentence 1987 for spying for Israel. He is reportedly suffering from severe pain and is said to be in a precarious medical state. The list of ailments that he has reportedly suffered from over the years includes diabetes, kidney and liver problems, as well as frequent bouts of nausea and blackouts.
Speaking to Israel's Channel 2 news on Wednesday, Effie Lahav, who heads the Committee to Free Pollard, described his condition as "not good."
"He was hospitalized 15 hours ago and underwent surgery," Lahav said. "He suffers from a long line of problems, mainly related to the skin and kidneys. We are very concerned about his situation. During the recent protest we held in front of the US embassy in Tel Aviv, we said we were unsure as to whether he could survive this year in prison."
Pollard has served almost 29 years of a life sentence for spying for Israel - the harshest punishment ever handed down to a US citizen caught spying for an American ally. The US has consistently rejected all Israeli requests for his release, but he is due for parole in November 2015.