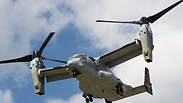 A joint Israeli-US military exercise that was kept under gag came to a conclusion Thursday; only two day after elite IDF forces boarded a Gaza-bound shipment of arms from Iran in the heart of the Red Sea.

The military exercise which began Sunday allowed the two military forces to practice aerial rescue operations with helicopters employed by both armies.



The Israeli forces took advantage of the situation and for the first time trained on the American V-22 – a Boeing made military aircraft with both a vertical takeoff and landing capabilities.

In the past, similar shaped helicopters participated in such joint exercises with Israel, but for the first time, this week Israeli pilots were given the chance to fly the unique aircraft.

The decision to allow IAF pilots to fly the aircraft was a result of a decision by the US to begin selling Israel the V-22.

Unlike the new F-35 planes which Israel has already purchased and are expected to reach Israel in 2016, or the Hercules planes expected arrive later this year, the IAF has not even begun to set up and train a specified squadron of pilots for the V-22, signaling that their operational use by the IDF is still far to come.

The V-22 serves the US Marine Corps, a large group of which are currently visiting Israel as part of the exercise and are conducting training flights throughout the country, especially in the Sharon in Lakish regions.