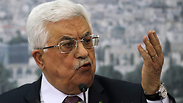 The Palestinian president says there's "no way" he'll recognize Israel as a Jewish state and accept just a portion of Israeli-annexed east Jerusalem as the Palestinian capital.

Palestinians fear the two demands will be key elements of a US peace proposal.

Related stories:

Mahmoud Abbas says in comments published Friday by the official WAFA news agency that he withstood US pressure when he sought UN recognition for a state of Palestine and suggested he could do so again.

US Secretary of State John Kerry is to present ideas for the contours of a deal to Abbas and Israeli Prime Minister Benjamin Netanyahu.

Gaps between the sides remain wide after seven months of Kerry's mediation, and a framework by an April 29 deadline appears elusive.