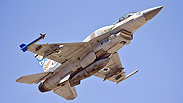 Israeli Air Force fighter jets were scrambled four times Friday morning towards Syrian aircrafts that closely approached the Israel-Syria border in the Golan Heights.

Syrian opposition sources reported Friday morning that the Syrian Air Force raided the village of Ghadir al Bustan, which is located in the vicinity of the cease-fire line in the southern Golan Heights. The Syrian jets, reportedly, used explosive barrels during the airstrike.

The IAF jets, which were launched from the Ramat David Air Force Base, were rushed towards the Syrian aircrafts armed with air-to-air missiles.

At a certain point, the Syrian jets were within a 2-3 kilometers distance of the Israeli border. The events all ended without any unusual occurrences, and the high level of alert along the Syrian border is maintained.

Such emergency IAF launches took place numerous times over the past few months, in order to verify that a Syrian pilot, who is battling his country's rebels, will not independently or by command continue on westward into Israel.

Meanwhile, Lebanese media outlets reported there is much movement by IAF aircrafts in the country's southern region.

There was a notable escalation in the Syrian arena in recent weeks, greatly due to Hezbollah operations in the area. On Wednesday, an IDF force spotted two armed men near the Golan border trying to place an explosive on site. The Israeli force opened fire and identified a hit.

A military source spoke to Ynet and confirmed that Hezbollah men did not cross the border into Israel, but only attempted to place an explosive along the border fence. "We are probably dealing with an attempted explosive (attack) led by Hezbollah. Two Hezbollah fighters were shot," the source said.

Last weekend, two rockets were fired towards an IDF station in Mount Hermon. There were no injuries in the event. It was initially speculated that the rockets were "leaked fire" from battles between the Syrian army rebels; however the possibility of the fire coming from Hezbollah was not excluded.

Roi Kais contributed to this report.