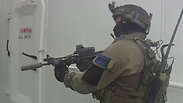 IDF soldier aboard the KLOS C
Photo: IDF Spokesperson's Unit
The IDF Spokesperson's Unit has released many videos of the impressive open waters seizure of an Iranian arms ship heading to Gaza via Sudan, but one video stood out from the pack.

The clip, filmed last Friday, shows the soldiers involved in the daring mission on their way to the area of operations, standing around a dinner table singing Shabbat songs.

The IDF Spokesperson's Unit video:

Days later, these soldiers successfully boarded the KLOS C, a cargo ship carrying Syrian-made missiles, in the Red Sea. Other videos showed Shayetet 13, Israel's elite naval special forces unit, conducting sweeps of the ship and discovering the M-303 surface-to-surface missiles hidden under bags of cement.