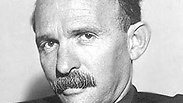 Victor Shem-Tov
Photo: Knesset website
Former Israeli politician and minister Victor Shem-Tov passed away early Saturday morning at the age of 99. Shem-Tov served as health minister under prime ministers Golda Meir and Yitzhak Rabin.

Shem-Tov was born in the Bulgarian city of Samokov in 1915. In Bulgaria, he was a member of the Maccabi Jewish youth movement. At the age of 24, he made aliyah. In 1946 Shem-Tov was appointed member of the Jerusalem Workers Council.

In addition, during the first years after the establishment of the state of Israel, Shem-Tov served as the chairman of the Bulgaria immigrants union in Jerusalem. In 1961, he was elected to the Knesset for the first time as part of the Mapam party.

In December 1969, he was appointed minister without portfolio and less than a year later he was promoted by former prime minister Golda Meir to the position of health minister. He stayed in office in the subsequent Rabin administration and spent a total of seven years in the position. Towards the end of his term, he was also appointed welfare minister.

During his tenure as minister, Shem-Tov was a not a Knesset Member. In 1981, he was re-elected to the Knesset as part of the HaMa'arkh (alignment) party, and remained a lawmaker until March 1988.

During his entire political life, Shem-Tov was very well-appreciated across the political sphere for his pleasantness. Many MKs, including his political rivals, expressed their disappointment when he resigned in 1988.

Meretz Chairwoman Zahava Gal-On mourned the death of the former minister: "Shem-Tov was a courageous fighter for social justice and peace. He began his contribution as a construction worker and left his mark and socialist teachings mark in all the public roles he served in, and aimed for equality, justice and human rights."

Gal-On added that "Shem-Tov will be forever remembered as one of those who were first to oppose to the First Lebanon War from day one, and fiercely criticized the floundering in Lebanese mud."