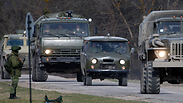 Russian military in Ukraine
Photo: Reuters
US President Barack Obama continued his telephone consultations with world leaders on Ukraine while vacationing in Florida, speaking one on one Saturday with the leaders of three European powers and collectively with the heads of the three Baltic states, the White House said.

Obama held a conference call with Latvian President Andris Berzins, Lithuanian President Dalia Grybauskaite and Estonian President Toomas Hendrik Ilves. The three Baltic states were all part of the former Soviet Union.

The US will send 12 F-16 fighter jets and 600 soldiers for an exercise in Poland this week, as well as six F-15 fighter jets to Lithuania, in response to Russian military activity in Kaliningrad.

Related stories:

Speaking to the Baltic leaders, Obama reaffirmed the United States' "unwavering commitment" to its collective defense commitments under NATO and "enduring support for the security and democracy of our Baltic allies," the White House said. It said the Baltic leaders welcomed the additional support.

Lithuania's Defense Minister Juozas Olekas said the addition of six American jets would bolster and increase the strength of the Baltic Air Policing mission.

Polish Defense Minister Tomasz Siemoniak said the drill in his country was planned to be much smaller, but following the developments at the Crimea peninsula Warsaw has asked to extend it.

In addition to that, Turkey gave a US battle ship permission to sail through the Bosphorus Strait on its way to the Black Sea.

Obama also held individual conversations with British Prime Minister David Cameron, Italian Prime Minister Matteo Renzi and French President Francois Hollande.

He welcomed the unified position of the United States and the European Union on Russian actions in Ukraine, including by the European Council, which is made up of EU leaders. The council voted this week to condemn Russia's action, demand the immediate withdrawal of its forces and seek access to Crimea for international monitors.

The leaders agreed that Russia must pull its military forces in Ukraine's strategic Crimea peninsula back to bases it has there, allow access for international observers and human rights monitors, and form a contact group to begin holding direct talks between Ukraine and Russia to reduce tensions in the region, the White House said.

Russian forces invaded Crimea a week ago in a move that the US and its allies have strongly condemned as a violation of international law.

Russian President Vladimir Putin says he has the right to protect Russian interests and the rights of ethnic Russians in Crimea.

The regional parliament in Crimea, a pro-Russian area of Ukraine, has set a March 16 vote on leaving Ukraine to join Russia. The US and its allies, including those Obama consulted Saturday, oppose the vote as contrary to Ukraine's constitution and therefore illegal. They say all decisions about Ukraine's future must include the country's new government in Kiev.

According to the White House, Obama and the European leaders have agreed that Russia continuing to break international law would lead to its isolation from the international community.
American-Russian dialogue to ease tensions
The American administration has not lost hope on the diplomatic option in an effort to ease the tensions between Russia and its eastern European neighbors, and maintains daily communications with Moscow.

On Saturday, US Secretary of State John Kerry had another phone call with his Russian counterpart, Foreign Minister Sergei Lavrov, a day after Obama and Putin spoke for an hour on the phone. Ever since the crisis in Ukraine broke out, the leaders of both countries have had several phone conversations.

In Saturday's call, initiated by Kerry, the American diplomat warned his Russian counterpart that any steps to annex Ukraine's Crimea region would close the door to diplomacy. He also once again offered America's services to coordinate and mediate direct talks between Russia and Ukraine.
Fire opened at Ukrainian plane
Meanwhile, Russia's control over large parts of Crimea continues.

A Ukrainian border patrol plane came under fire while flying at about 1,000 meters (3000 feet) near the administrative border with Russian-occupied Crimea on Saturday, border guards said. No one was hurt.

An AP reporter said pro-Russian gunmen fired warning shots above a convoy of unarmed observers from the Organization for Security and Cooperation in Europe (OSCE), preventing them from entering Crimea. The gunman said the European delegation had no permission to enter the region.

A Crimean spokesman told AP that Russia was reported to be reinforcing its military presence in the peninsula. According to the spokesman, Vladislav Seleznyov, witnesses reported seeing amphibious military ships unloading around 200 military vehicles in eastern Crimea on Friday night after apparently having crossed the Straits of Kerch, which separates Crimea from Russian territory.

He also said a convoy of more than 60 military trucks bearing no license plate numbers was headed from the eastern city of Feodosia toward the city of Simferopol, the regional capital.

According to Pentagon estimates, some 20,000 Russian soldiers entered Crimea in the past week.

Ukrainian Defense Minister Ihor Tenyuh spoke to his American counterpart Chuck Hagel and asked him to consider giving his country humanitarian aid and military reinforcements. Hagel said he would mull the request.

Polish Foreign Minister Radosław Sikorski wrote on his Twitter account that Poland evacuated its consulate in Crimea following the Russian invasion to the area.

"The continued instability in Crimea caused by Russian troops has left us no choice but to close the consulate," he wrote.