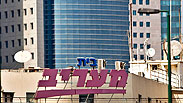 Maariv headquarters in Tel Aviv
Photo: Reuters
Iconic Israeli newspaper Maariv has not printed its Sunday edition as its publisher is seeking to keep the paper from collapse.

Maariv was first published in 1948 with the establishment of Israel, and was once the country's largest paper. But it has been the brink of closure in recent years, struggling to compete with free offerings like Israel Today, owned by casino mogul Sheldon Adelson, which has taken some of the paper's top writers.

Print Media

In an age where digital media is attracting huge audiences, how do Jewish print publications stay fresh and relevant?

Avi Lerner, a spokesman for Maariv, said Sunday the paper would renew its print edition only if a court agrees to a stay of proceedings in litigation against the newspaper's publisher. The paper published its online edition.

Creditors and employees say the publisher owes them money, but the newspaper is in debt.

Publisher Shlomo Ben-Tzvi is proposing large cuts to newspaper staff and becoming a mass circulation evening paper. Ben-Tzvi, who also owns Makor Rishon, a conservative religious-Zionist newspaper, bought the paper last year from Nochi Dankner's conglomerate IDB for NIS 74 million (roughly $19 million).

Dankner bought the paper only 18 months prior to the sale to Ben-Tzvi for 300 million ($77 million).

The purchase was highly contested and throughout the process was marred by employee strikes. According to a statement by a Ben-Tzvi spokesperson at the time of the purchase, some 1,400 employees working in printing, distribution and administration would keep their jobs, along with "around 300 members of the editorial staff."

However, as the paper fails to stabilize, it seems likely that additional layoff will be enacted.

At the end of 2011, Maariv reportedly employed just over 2,000 people including 377 editorial staff, 136 administrative staff, 177 in its printing operation and another 1,327 in distribution and marketing.

Much of Maariv's staff opposed the sale because of fears that some people would lose their jobs. Maariv staff had sought help from Israel's Histradrut Labor Union Federation to ensure they would receive their upcoming salaries.