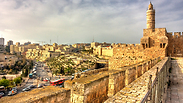 ירושלים מגדל דוד
Photo: Shutterstock
Hotel prices in Israel put the Jewish state in the fifth place among 68 of the world's countries, according to the annual Hotel Price Index survey which will be published this weekend.

Considered the world's most comprehensive survey, it addresses the actual prices paid by tourists for an online reservation of a hotel room through Expedia – the world's biggest group for reserving tourism products, which also owns the hotes.com website, offering more than 260,000 hotels around the world.

Global Recognition

Ritz-Carlton in Herzliya and Alma Hotel & Lounge in Tel Aviv included in Travel + Leisure magazine's 2014 It List, which introduces the 70 most promising new hotels in the world

If it's any consolation, in the 2009 report Israel shared the third place with Switzerland.

According to the survey, the average price of a hotel room reserved in Israeli hotels in 2013 was £141 (NIS 817 or $235), which was only cheaper than Monaco, Oman, Mauritius and Singapore. In Monaco, for example, the average price of a hotel room was £198 (NIS 1,147 or $331). In 2009, the average price of a hotel room sold to tourists in Israeli hotels was NIS 713 ($206).

One of the reasons why Israel ranks so high is that there are not a lot of low-cost hotels in the country, and so the five-star hotels determine the high average price. Europe and North America, on the other hand, have a wide variety of low-cost hotels which push the average price down, as a breakdown of the hotels' level reveals.
Jerusalem on top
The city ranking, which included a total of 116 cities, Jerusalem hotels ranked 21st (together with London) with an average price of some NIS 700 ($202) a night. The 2009 report shows that hotel prices in Jerusalem remained stable and are now even about NIS 6 cheaper a night.

In 2009, Jerusalem ranked 11th, which means the average hotels prices in other cities in the world have become more expensive in the past few years.

Jerusalem is preceded this year by Monte Carlo, New York City, Rio de Janeiro. Moscow, Geneva, Miami, Singapore, Zurich, Los Angeles and other cities, whose hotels are more expensive than the Israeli capital's. Jerusalem is followed by Chicago, Ibiza, St. Petersburg, Amsterdam, Munich, Toronto, Johannesburg, Florence, Barcelona, Brussels, Vienna, Rome, Berlin, Lisbon and other cities, whose hotels are cheaper per night.

A breakdown according to the hotels' level puts Jerusalem in the 29th place with an average price of NIS 1,048 ($302) for a five-star hotel room. The prices in five-star hotels in San Francisco were the highest on the list – about NIS 2,700 ($780), followed by the luxury hotels of Rio de Janeiro (NIS 2,404) and New York (NIS 1,900). Luxury hotels which are cheaper than Jerusalem's five-star hotels can be found in Las Vegas (NIS 886), Madrid (NIS 781) and Berlin (NIS 694).

Recent Yedioth Ahronoth inquiries reveal that it is sometimes cheaper for Israelis to book hotels through foreign websites like booking.com and hotels.com. Although the prices presented on most of these sites don't include value-added tax, in many cases the prices are still more attractive even after adding VAT.