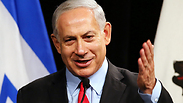 Israeli Prime Benjamin Netanyahu said any peace deal with the Palestinians would take at least another year to negotiate should both sides accept US-proposed principles to keep talks going.

In an Israel Radio interview broadcast on Sunday, Netanyahu reiterated that he regarded guidelines that US Secretary of State John Kerry is drafting for a future deal as an "American document of American positions".

Such a definition could give Netanyahu leeway to register reservations that could discourage staunch supporters of Jewish settlement in the West Bank where Palestinians want to make their state from bolting his coalition.

Related stories:

"I think (the Kerry document) ... is a possible path toward moving the talks forward. It will take us at least a year to exhaust these negotiations but I can't say that the Palestinians will accept this document, and I also have not seen it yet," he said.

Netanyahu gave the interview on Thursday in Los Angeles, before flying back to Israel after a US visit that included White House talks with President Barack Obama.

Palestinian President Mahmoud Abbas is due to see Obama on March 17 to discuss the so-called "framework deal" aimed at salvaging the faltering negotiations, which began in July with a target date of April for a final agreement.

Abbas has rejected a core Netanyahu demand – recognition of Israel as a Jewish state. Palestinians fear such a condition will deny Palestinian refugees, who fled or were forced to flee their homes in Arab-Israeli wars, any right of return.

The Palestinian president said on Friday there was "no way" he would recognize Israel as a Jewish state.

"The nature of Israel is something that should be defined by Israelis, not Palestinians," Palestinian chief negotiator Saeb Erekat said on Israeli Army Radio on Sunday.
Palestinian demands
Erekat said Palestinians expected Israel to complete on March 28 the release of the final batch of 104 Palestinian prisoners it agreed to free as part of peace efforts.

"And then the negotiations are supposed to continue until April 29," he said, referring to the end of the nine-month negotiating period originally envisaged by Kerry.

Reiterating another core Palestinian demand, Erekat said Israel must recognize a Palestinian state along the lines that existed before the 1967 Middle East war, in which Israeli forces captured the West Bank, East Jerusalem and Gaza Strip.

Israel has said a return to those boundaries would leave it with indefensible borders.

But Netanyahu, in an interview broadcast on Friday on Israel's Channel Two television, said his government would give up "some settlements" in the occupied West Bank to help secure a peace agreement.

He said, however, that he would limit as much as he could the number of enclaves removed. Palestinians say settlements that dot much of the West Bank landscape would bar them from establishing a contiguous state, a goal of the peace talks.