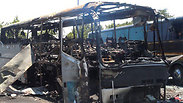 SOFIA - Bulgaria has identified a Lebanese man as the bomber who blew up an airport bus in 2012, killing five Israeli tourists, their Bulgarian driver and himself, local media said Sunday.

Israel and Bulgaria have already accused the powerful terrorist Shiite movement Hezbollah of being behind the attack at Burgas airport on the Black Sea, the deadliest on Israelis abroad since 2004. The tourists had arrived on a charter flight from Israel and were in the bus in the airport car park when the blast tore through the vehicle, also killing the Bulgarian driver and wounding more than 30 people.

Bulgaria had previously identified as alleged accomplices two Lebanese men with links to Hezbollah - and with Canadian and Australian passports - and has made so-far unanswered extradition requests to Lebanon.

Related stories:

Chief prosecutor spokeswoman Rumyana Arnaudova declined to comment on the latest report in the Pressa newspaper, which cited sources in the Bulgarian intelligence services.

"The investigation is ongoing and is very intensive but I cannot confirm any details around the probe as this might jeopardize it," Arnaudova told AFP.

The bomber died in the attack - although it remains unclear if he intended to die - and investigators had been unable to identify him despite having DNA from the severed head and limbs found at the site of the bombing.

Chief prosecutor Sotir Tsatsarov returned on Friday from a four-day visit to Israel where he met Attorney General Yehuda Weinstein and chief State Prosecutor Shai Nitzan.

Last Febuary a third suspect was identified in the bombing.