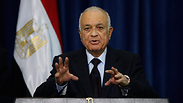 Arab League chief Nabil Elaraby
Photo: AP
The Arab League on Sunday endorsed Palestinian President Mahmoud Abbas's rejection of Israel's demand for recognition as a Jewish state, as US-backed peace talks approach a deadline next month.

The United States want Abbas to make the concession as part of efforts to reach a "framework agreement" and extend the talks aimed at settling the decades-old Israeli-Palestinian conflict.

"The council of the Arab League confirms its support for the Palestinian leadership in its effort to end the Israeli occupation over Palestinian lands, and emphasizes its rejection of recognizing Israel as a 'Jewish state'," Arab foreign ministers said in a statement in Cairo.

Arab governments, distracted by the upheaval convulsing the region since the 2011 Arab uprisings, have previously taken few stands on the floundering peace talks, leaving Abbas isolated.

Benjamin Netanyahu has been Israel's first prime minister to make recognition of his country as a Jewish state a requirement for peace. The issue has lately overshadowed other stumbling blocks over borders, refugees and the status of Jerusalem.

Palestinians fear the label would lead to discrimination against Israel's sizeable Arab minority, while Israelis say it recognizes Jewish history and rights on the land.

"In recognizing the Jewish state you (Palestinians) would finally make clear that you are truly prepared to end the conflict," Netanyahu said on Tuesday.

"So recognize the Jewish state, no excuses, no delays. It is time," he said in a speech to the pro-Israel AIPAC lobby.

Abbas complained on Saturday that Palestinians were being asked for something that had not been demanded of Arab countries that have previously signed peace treaties with Israel.

"We recognized Israel in mutual recognition in the (1993) Oslo agreement - why do they now ask us to recognize the Jewishness of the state?" he asked.

"Why didn't they present this demand to Jordan or Egypt when they signed a peace agreement with them?" Abbas added.

The United States is hoping to get the two sides to agree on some general points, including the "Jewish state" issue and a rough understanding on borders, as part of what it calls a framework deal that could lead to the prolongation of the talks, which have achieved little since they began seven months ago.

Israel captured Gaza, the West Bank and East Jerusalem in the 1967 war. Palestinians seek the land for their future state, and want Israeli soldiers and over half a million settlers gone.