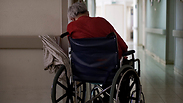 Holocaust survivor, archive
Photo: AP
Finance Minister Yair Lapid instructed to compare the conditions of Holocaust survivors who arrived to Israel after October 1953 to the conditions of survivors who arrived in the country prior to that date. Some NIS 300 million ($86.7 million) will be allocated to fund the new legislation.
Following the decision, the Finance Ministry will initiate legislation procedures that will include allocating the necessary sum to fund the 18,500 Holocaust survivors . The ministry is planning to move the bill to the Knesset's vote in 2014.
Related Stories:
About 16,000 of the Holocaust survivors in question receive a pension of NIS 1,488 ($429) a month from the Claims Conference, in addition to a monthly State grant in the sum of NIS 365 ($105). The rest of the elderly Holocaust surviviors in question receive a pension of NIS 2,245 ($648) from the Finance Ministry in accordance with the Holocaust Survivors Benefits Law.
According to the new legislation, the survivors will be transferred to the Holocaust Survivors Rights Authority in the Finance Ministry and will be entitled to a raise in the amount of the basic compensation deriving from the individual's disability. The basic payment ranges from NIS 1,825 ($526) a month for a 25% disability to NIS 5,405 ($1,560) for a 100% disability.
In addition, Holocaust survivors who are defined as needy by economic measures will be entitled to increased monthly payments, varying according to the level of their disability, ranging from NIS 5,317 ($1,530) to NIS 9,000 ($2,600).
Benefits will also be handed in the form of funding medical treatment for Holocaust-affiliated diseases. The Holocaust survivors recognized in the new legislation will also be entitled for next-of-kin pension for 36 months after passing, and in the case of an increased pension, the spouse will receive the payments for the rest of their lives.
Colette Avital, head of the Center of Organizations of Holocaust Survivors, praised the decision. "Righting this wrong is a great historical moment. The survivors were not to blame for not arriving sooner to Israel, and now they will receive the benefits they were naturally entitled to."