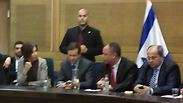 The alternative opposition debate.
Photo: Eli Mendelbaum
Israel's opposition parties, led by Labor chair Isaac Herzog, on Monday rejected an olive branch from Prime Minister Benjamin Netanyahu, and launched a boycott of debates on three controversial bills that the coalition had planned to pass en masse.
The political spat began over the weekend, after the coalition drafted an agreement that would bind all of its members to vote in bulk in favor of the bills to change military draft requirements for the ultra-Orthodox, require a referendum on any land transfers in a peace deal, and raise the bar for admission of parties to the Knesset.
Netanyahu worked together with his government on a compromise in an effort to end the row, which the opposition promptly rejected. The compromise would have given the Knesset more time to debate the bills.
Related stories:
Boycotting the Knesset discussions on the three disputed bill proposals in the plenum, the opposition held an alternative debate in the Knesset's Negev Hall.
"There are rules to the game, but the rulebook was run over and crushed in a crude fashion," opposition and Labor leader Isaac Herzog said at the start of the alternative discussion. "We have decided to not play this game, and we are waging a battle to save Israeli democracy."
Shas leader Aryeh Deri echoed Herzog's words, "We are not playing this game, and no one has an absolute majority within the coalition. Without the deals and machinations which they made back then, they would not even have a majority."
"The coalition is waiving an axe at the opposition," said Meretz leader Zehava Gal-On.
"This is hesitation, this is defeatism. We have a cowardly prime minister who, instead of intervening, banging on the table and saying 'I will not allow such a destructive coalition on my watch,' binds the factions as if we are talking about a pack of thieves who can't trust each other," she added.