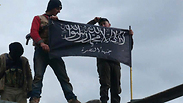 Nusra Front fighters
Photo: AP
A $4 million ransom was reportedly paid to the al-Qaeda-linked Nusra Front for the release of 13 Greek Orthodox nuns that were held by the rebel group for four months, Lebanese media reported on Monday.

In addition to that, some 150 imprisoned Syrian women were to be released in exchange for the nuns from Syrian government jails, along with three other women were taken from their convent in the Christian-dominated town of Maaloula during clashes in December.

The nuns' release was reportedly delayed because the kidnappers added further conditions before agreeing to hand over the hostages.

They were released early Monday in a rare deal between the Syrian government and rebels of the Nusra Front, mediated by the Gulf country of Qatar, traditionally a rebel supporter.

Related stories:

The freed nuns arrived in Damascus on Monday morning, where they received a warm welcome at the Church of the Cross in the predominantly Christian neighborhood of Qassaa, official news agency SANA reported.

"All of Syria is happy today (for their return)," Bishop Luka al Khoury told Reuters. "These are women who do nothing but pray...They don't have weapons or bombs. On the contrary, they pray for people to be safe and secure."

Eleven of the nuns later attended a service of thanksgiving for their safe return at the Greek Orthodox Church of the Holy Cross in Damascus. Mother Superior Pelagia Sayyaf, one of the abducted nuns, held a candle and wept as she entered the church.

The women said they were well treated and appeared so in a video of their release issued by the Nusra Front, the group that held them. One elderly nun too weak to walk was carried by a rebel gunman, his face covered with a balaclava, to a nearby vehicle.

They thanked God for their safety before heading to the Greek Orthodox Patriarchate in Old Damascus, where they will now stay, SANA said.

The Syrian Greek Orthodox Patriarchal Assistant, Bishop Luca al-Khoury, who led an official church reception to greet the nuns, accused the rebels fighting to overthrow President Bashar Assad of targeting Syria's patchwork of religious minorities. Al-Khoury is a frequent defender of Assad's rule.

"Syria, which does not differentiate between Muslims and Christians, is targeted... by the armed terrorist groups who don't understand anything but the language of killing and destruction."

Hezbollah issued a congratulatory statement, saying "On this happy occasion Hezbollah congratulates the released nuns, the Orthodox Church, the Syrian leadership, and the Syrian and Lebanese people," Hezbollah said in a statement issued Monday and quoted by NOW Lebanon.
Minorities under fire
The nuns' seizure confirmed the fears of many in Syria's minority Christian community that they were being targeted by extremists among rebels. Syria's three-year conflict has become increasingly sectarian.

The country's chaotic mix of rebel groups is overwhelmingly Sunni Muslim, while the minorities include Christians, Shiite Muslims and Alawites – whose sect is a Shiite offshoot. Most have sided with Assad or remained neutral, fearing for their fate should rebels take power. Assad is an Alawite.

Also Monday, the international rights group Amnesty International accused the Syrian government of committing war crimes and crimes against humanity by blockading and starving civilians in the southern Damascus neighborhood of Yarmouk.

Amnesty said it estimates 200 people in Yarmouk have died of hunger-related illnesses since a yearlong blockade on the area was tightened in July by forces loyal to Syrian President Bashar Assad.

Amnesty said its research showed that 128 people starved to death in a report released Monday.

Assad-loyal forces began blocking the Palestinian-dominated area to flush out rebels and to punish civilians for harboring them, in a policy the government has used across Syria since the uprising began three years ago.

Efforts to reach a truce in Yarmouk allowing food deliveries to starving residents have repeatedly collapsed.

The Associated Press and Reuters contributed to this report