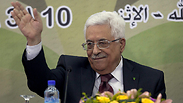 PA President Abbas at the Fatah Council meeting in Ramallah.
Photo: AP
RAMALLAH - The Revolutionary Council of Palestinian Authority President Mahmoud Abbas on Monday night unanimously endorsed his rejection of demands to recognize Israel as a Jewish state, officials at the meeting told AFP.

"President Abbas has reaffirmed his refusal to recognize the Jewishness of the State of Israel and council members stood up to hail this decision," a senior Fatah official said from the meeting in Ramallah.

Abbas said in his speech to delegates that "at 79 years old, he wasn't going to back down on his people's rights or betray their cause," despite the "great pressure being exerted," said the official, speaking on condition of anonymity.

Related stories:

Prime Minister Benjamin Netanyahu has made recognizing Israel as a Jewish state a central issue of peace negotiations, calling it the root of the conflict between Palestinians and Israelis.

Palestinians reject that claim, underlining that they already recognized Israel in 1993 and saying that enshrining it as a "Jewish state" would jeopardize Palestinian refugees' right to return home.

Abbas is to travel to the United States on an official visit next week, including a meeting with US President Barack Obama on March 17.

US Secretary of State John Kerry has been leading the latest push for peace between Israel and the Palestinians, prodding the two sides to sign a "framework agreement" on definitively resolving issues that have long troubled negotiations, including borders, Israeli settlements, security, the status of Jerusalem and Palestinian refugees.

The US has appeared to back the recognition of Israel as a "Jewish state," but the State Department insisted Friday that the issue was still up for negotiation.

"If you look at the issue of a Jewish state and whether Israel will be called a Jewish state, that's been our position, as you know, for a long time, but that doesn't reflect what the parties will agree to... and of course there are many issues like that that are being discussed as part of the framework," said spokeswoman Jen Psaki.