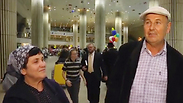 First Subbotnik Jews to arrive in Israel this year
Photo: Gabi Newman
Their forefathers were persecuted to the bitter end under the Russian regime after deciding to adopt a Jewish lifestyle and convert about 200 years ago. They were called Subbotniks, the Christians who converted to Judaism, as Subbota means Shabbat in Russian.

Their immigration to Israel was halted 11 years ago, and the Israeli government is currently working on a plan to bring the remaining Subbotnik Jews from Russia.

Exploring Judaism

They have been Italian for generations, but alongside Catholic roots – Jewish roots are being revealed, as well as 500-year-old Torah scroll, Shema Yisrael prayer found by chance in basement. What makes hundreds of people dig into their lives?

The Subbotniks were forced to pay a heavy price for their decision to convert, including being forcibly deported by Tsar Alexander I to remote in the Russian empire. They immigrated to Israel even before the First Aliyah and immediately integrated into the pioneering work of the Yishuv (the body of Jewish residents in Palestine before the establishment of the State of Israel).

This community includes figures who have become an inseparable part of the Zionist ethos, like Alexander Zaïd, one of the founders of Jewish defense organizations Bar Giora and Hashomer, retired police commander Alexander (Alik) Ron, who was in charge of the Israel Police's northern district, late Lieutenant Colonel Yossi Korkin, who died in the Shayetet 13 ambush in Lebanon, and late Prime Minister Ariel Sharon's mother, Vera Schneirov Scheinermann.

"My mother was born in Israel, but my grandmother, her mother, arrived as an observant and very strict Subbotnik girl," says Alik Ron. "Those days it was unacceptable to discuss the issue, because the Subbotniks were harassed quite a lot. They were called 'gentiles,' although they were more observant than many others.

"My father came from a respectable Jewish family. His mother was a doctor who was known for her good manners and restraint. The only time she was heard losing her temper was when people came and told her, 'Why is your son marrying a gentile woman?'

"Only many years later, we encouraged mother and her family to tell the story, to reveal the roots and magnificent history of the Subbotnik community, which made a brave decision and stuck to it despite the harassment and persecution."
'Magnificent Jewish and Zionist story'
About 100 Subbotniks are expected to make aliyah in the coming months, and hundreds others will immigrate later on. Estimates are that some 15,000 to 20,000 Subbotnik Jews live in the former Soviet Union today.

"The Subbotnik Jews remaining in Russia and other countries of the former USSR are people with a magnificent Jewish and Zionist story, who have shown great courage for hundreds of years to maintain their Jewishness even under persecution by the tsars, communists and Nazis," says Shavei Israel founder and Chairman Michael Freund. "We will not give up until we bring the very last of them to Israel."

Shavei Israel has been leading the campaign to bring the Subbotniks to Israel, working together with the government and the Jewish agency as part of immigration and conversion programs. For that purpose, the organization has appointed a special emissary who lives with the community members in Russia, helping them sustain a Jewish community life and prepare for their aliyah.

Immigrant Absorption Minister Sofa Landver and her ministry's director-general, Oded Forer, met recently with Israel's Sephardic Chief Rabbi Yitzhak Yosef to discuss the Subbotnik immigration. According to the outline taking shape, which has received the rabbi's blessing, the Subbotniks will make aliyah with a special visa and undergo a conversion process in Israel.

Their immigration was halted 11 years ago by former Sephardic Chief Rabbi Shlomo Amar, who said they were not Jewish enough and had to undergo a strict conversion. As they could not covert abroad, their immigration came to a complete halt.

"One of the channels in our office's activity is finding the proper solution for the immigration of the Subbotnik community to Israel," says Minister Landver. "They are undoubtedly a community with a high potential of integration in Israel."