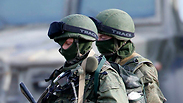 Russian troops in Ukraine
Photo: Reuters
Jewish leaders in Ukraine have written an open letter to Russian President Vladimir Putin, urging him to withdraw his troops from their country and rejecting his claims of anti-Semitic activity there.

The letter, published on the website of the Euro-Asian Jewish Congress, casts doubts on Putin's motivations for sending his troops into Ukraine in the wake of the mass protests that led to the removal from power of former president Viktor Yanukovich last month. And regarding anti-Jewish sentiment, the letters states that Russia is far more guilty of anti-Semitism than Ukraine.

Related stories:

"The Russian-speaking citizens of Ukraine are not being humiliated or discriminated against, their civil rights have not been limited", says the letter. "Meanderings about 'forced Ukrainization' and 'bans on the Russian language' that have been so common in Russian media are on the heads of those who invented them. Your certainty of the growth of anti-Semitism in Ukraine also does not correspond to the actual facts. It seems you have confused Ukraine with Russia, where Jewish organizations have noticed growth in anti-Semitic tendencies last year.

In fact, the letter states, the only real menace faced by the Ukrainian people, including the Jewish community, emanates from Russia - and Putin in particular.

"Unfortunately, we must admit that in recent days stability in our country has been threatened. And this threat is coming from the Russian government, namely – from you personally," the authors write. "It is your policy of inciting separatism and crude pressure placed on Ukraine that threatens us and all Ukrainian people, including those who live in Crimea and the Ukrainian South-East."

Furthermore, states the letter, the Ukrainian oppposition whose protests led to the removal of Yanukovich had no visibly anti-Semitic elements, despite claims to the contrary from Moscow:

"They have tried to scare us (and are continuing their attempts) with 'Bandera followers' and 'Fascists' attempting to wrest away the helm of Ukrainian society, with imminent Jewish progroms. Yes, we are well aware that the political opposition and the forces of social protests who have secured changes for the better are made up of different groups. They include nationalistic groups, but even the most marginal do not dare show anti-Semitism or other xenophobic behavior. And we certainly know that our very few nationalists are well-controlled by civil society and the new Ukrainian government – which is more than can be said for the Russian neo-Nazis, who are encouraged by your security services."

The letter also accuses Putin of fabricating the crisis and believing "lies" told by Yanukovich after he had fled.

"You consciously pick and choose lies and slander from the massive amount of information about Ukraine," it says. "And you know very well that Victor Yanukovich's statement concerning the time after the latest treaty had been signed that '...Kyiv is full of armed people who have begun to trash buildings, places of worship, churches. Innocent people have begun to suffer. People have simply been robbed and killed in the street...' are lies, from the first word to the very last."

Referring to Putin by his first names, the letter's writers call for him to remove his troops and refrain from sowing internal discord in Ukraine.

"Vladimir Vladimirovich, we highly value your concern about the safety and rights of Ukrainian national minorities. But we do not wish to be 'defended' by sundering Ukraine and annexing its territory. We decisively call for you not to intervene in internal Ukrainian affairs, to return the Russian armed forces to their normal fixed peacetime location, and to stop encouraging pro-Russian separatism."

The letter was signed, inter alios, by Josef Zisels, the chairman of the Association of Jewish Communities and Organizations of Ukraine and Executive Vice President of the Congress of National Communities of Ukraine; Alexander Suslensky, Vice President of the Ukraine Jewish Confederation; Andrei Adamovsky, Vice President of the Ukraine Jewish Confederation; Rabbi Alex Dukhovny, Chief Rabbi of Ukraine's Reform Jews; and Rabbi Reuven Stamov, Chief Rabbi of the Ukrainian Masorti community.