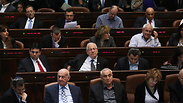 Half-empty Knesset passes enlistment bill
Photo: Gil Yohanan
A near-deserted Knesset on Wednesday passed controversial legislation to draft ultra-Orthodox yeshiva students into the army, after a political row saw the opposition boycott the vote.
The bill passed its final two readings in the plenum with 67 voting in favor and just one against. There were zero abstentions due to the absence of any opposition lawmakers.
The sole "nay" vote came from MK Yoni Chetboun of Bayit Yehudi. Chetboun had promised to break ranks and vote against the bill and was the sole coalition member to do so.
MK Moshe Gafni (United Torah Judaism) slammed the passing of the bill, saying "The State of Israel has lost the right to be called a Jewish and democratic state today. The haredi public will not forgot and will not forgive Netanyahu and his partners for what they caused.
"This is a black day for the State and for the government, no yeshiva student will enlist, not today and not in the future," Gafni said.
Minister Naftali Bennett of Bayit Yehudi, however, praised the vote, saying in a recorded video message in English that the Knesset was "making history today."
The bill stipulates enlistment quotas for ultra-orthodox yeshiva (seminary) students, and imposes criminal sanctions on draft dodgers.
Related stories:
The bill was an election promise by Yesh Atid's Yair Lapid, whose party spearheaded the legislation. It has enjoyed the support of religious-Zionist party Bayit Yehudi whose leader Naftali Bennett has expressed a desire to integrate haredim into the workforce and views IDF service as a facilitating such a move.
The opposition walk-out came after Ynet revealed a coalition agreement that guaranteed to the bulk passage of the enlistment bill and two other controversial laws – the Governance Bill and the Referendum Bill – both of which passed despite an opposition walk-out.
The issue lies at the heart of a cultural war on the place of the ultra-Orthodox in Israeli society. For years exempt from military service, the ultra-Orthodox insist their young men serve the nation through prayer and study, thus preserving Jewish learning and heritage. They say conscription threatens their community.
The exemptions have enraged secular Israelis who say the ultra-Orthodox are not doing their fair share.
The Associated Press contributed to this report