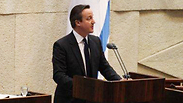 David Cameron at the Knesset
Photo: Knesset's Spokesperson
Britain backs Secretary of State John Kerry's efforts to negotiate a peace agreement between Israel and the Palestinians, British Prime Minister David Cameron told the Knesset on Wednesday, saying that the opportunities that peace would bring are enormous.
Taking the podium after a rocky introduction that saw opposition lawmakers stalk out for the duration of Prime Minister Benjamin Netanyahu's welcoming remarks, Cameron renounced efforts to sanction Israel for its policies toward the Palestinians.
"To those who do not share my ambition, who want to boycott Israel, I have a clear message. Britain opposes boycotts. Whether it's trade unions campaigning for the exclusion of Israelis, or universities trying to stifle academic exchange."
The Conservative leader also refuted the delegetimization campaign conducted against Israel, saying "Israel's place as the homeland for the Jewish people will never rest on hollow resolutions passed by amateur politicians." He emphasized that "delegitimising the state of Israel is wrong. It's abhorrent. And together we will defeat it."
Cameron said that the United Kingdom's cooperation with Israel was safe under his watch: "With me you have a British Prime Minister whose belief in Israel is unbreakable and whose commitment to Israel's security will always be rock solid."
The British leader also appeared to be in step with his Israeli counterpart on regional security issues including Iran's nuclear ambitions, warning that the two allies must remain vigilant to "the threat of a nuclear armed Iran and perhaps the greatest challenge of all, the poisonous ideology of Islamist extremism."
Referring to accusations that Israel was at fault for regional instability, Cameron said: "And to people who try to say that Israel is the cause of these problems. I say that fundamentally misunderstands what these problems are about."
Regarding the recent controversy over kosher and halal slaughter, the British prime minister assured his local religious communities that their ritural preparation of meats will not be criminalized: "On my watch Shechita is safe in the UK."
State visit
Cameron is on a two-day trip to Israel, during which he was to hold talks with Netanyahu and President Shimon Peres, as well as opposition leader Isaac Herzog. He was also to meet Palestinian President Mahmoud Abbas in Ramallah, and visit the Yad Vashem Holocaust museum in Jerusalem.
This is Cameron's first trip to Israel as the British leader; he did visit, however, before he became prime minister in 2010. The trip was originally scheduled for last month, but was delayed due to heavy flooding that left much of southern England underwater.
Meanwhile, British Ambassador to Israel Matthew Gould has come under fire from Israeli diplomats for not cancelling Cameron's visit in a show of solidarity with their ongoing strike, the Daily Telegraph reported Tuesday.
According to the report, the Israeli Foreign Ministry workers union sent Gould a strongly worded letter in which it wrote that, "As professionals to a professional ... we express our disappointment that your embassy has been actively contributing to the ongoing efforts to break our struggle for better and fairer conditions."
The letter to Gould said that the Foreign Ministry staff had "been hoping for your solidarity and support, especially since it is us who regularly provide your embassy with the vast majority of the services required for its smooth operation."