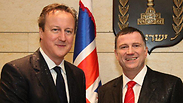 Cameron with Knesset Speaker Edelstein
Photo: Knesset
Haredi and Arab lawmakers from the opposition walked out of the Knesset session attended by British Prime Minister David Cameron after the government passed the controversial haredi enlistment bill.

The Haredi MKs walked out as Prime Minister Benjamin Netanyahu took the podium to welcome Cameron and the Arab lawmakers waled out in a later stage of Netanyahu's speech. Opposition MKs who chose to remain in the plenum heckled Netanyahu during his speech with a smiling Cameron sitting in the place of honor on the Knesset's podium.

Cameron did not take the haredi MKs' walk out to heart.

"Ambassador (Matthew) Gould warned me that people might walk out and leave, and that I may learn the meaning of the word 'balagan' (chaos). I don't think we've come to this," he said, noting both Israel and Britain were fortunate to have a parliament and a democracy that allows them to protest in this manner.

MKs walk out on Cameron (מתוך: ערוץ הכנסת)

The MKs later returned to the plenum when Opposition Chairman Issac Herzog took to the stage.

Related stories:

The opposition's intentions to do so caused a rift between Knesset Speaker Yuli Edelstein and opposition faction leaders, who convened Tuesday to decide how to continue their protest.

"I demand that you do not sabotage Cameron's visit," said Edelstein to opposition leaders. "As long as you protest within the political framework it is acceptable, but there are things that are off limits. This is the visit of a foreign leader."

Kadima Chairman Shaul Mofaz, who took part in the Edelstein-opposition meeting, said that he proposes that in return for not disrupting Wednesday's Knesset events, the coalition will postpone the approval of one of the speeches. Some opposition members opposed the proposal, and sources privy to Edelstein said that the opposition's brazen conduct is "extortion."

"You have already harmed me even though I tried to do everything for you in the past two days," said Edelstein. "Don't harm the Knesset and government's dignity."

Coalition Chairman Knesset Member Yariv Levin said in response that "this is a new kind of violent and bullying behavior by the opposition, which refuses to accept a democratic decision and respect the Knesset's sovereignty. The opposition's chairman (Isaac Herzog), who dreams of an alternative government, is misappropriating the small role he has in the foreign relations field – as chairman of the Israel-Britain Association, he single-handedly sabotages ties with Britain and harms Israel's image in one of Europe's most important countries."

Levin further said that "all along, the Knesset speaker worked to bring forth maximum response to the opposition's demands, and his efforts led to setting unusual and extensive deliberations that the opposition refused to exercise. I call on the opposition to come to its senses – stop degrading the Knesset. Respect the Knesset speaker, your position and your responsibility."