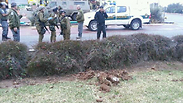 Rocket that fell in Kfar Aza.
Photo: Roee Idan
The IDF responded with force to a barrage of at least 60 rockets fired from the Gaza Strip at the Israeli south on Wednesday, striking dozens of terror targets from the air and with artillery fire.
Thirty-one Islamic Jihad and Hamas targets have been hit all across the Gaza Strip - two in an IDF artillery strike and 29 more in an Israel Air Force strike later on in the evening. Palestinian sources said IAF planes hit two Islamic Jihad bases, one of them in Rafah.
Residents in the Beit Hanoun area of Gaza said they saw an Israeli artillery strike hit a rocket launcher squad.
Palestinian sources said the IAF hit Islamic Jihad targets in Rafah, the Khan Yunis area, Deir al-Balah and in the Beit Lahia area, as well as a base of the Hamas' military wing. The sources said IAF jets keep returning to targets that have been attacked. So far, there were no reports of Palestinian casualties.
Following the IAF strike, a power outage was reported in large parts of Rafah.
"Israel will bear responsibility for the current escalation in Gaza. It continues its aggressiveness and the resistance will use its right to defend the Palestinian people," a Hamas spokesman said.
Palestinian Authority President Mahmoud Abbas issued a statement via his spokesman urging an end to what he called "Israeli military escalation in the Gaza Strip."
Earlier, Palestinian terrorists fired dozens of rockets at southern Israel.
There were no immediate reports of casualties from the rocket fire, but a 57-year-old woman from Sderot was lightly injured while running to take cover. The Iron Dome missile-defense system intercepted at least three rockets over Sderot.
This was the heaviest barrage of rockets fired from the Strip since the 2012 Operation Pillar of Defense.
The rockets were fired from both the north of the Strip and its south. Most of the rockets fell in open fields, at least eight fell inside southern communities. The Eshkol Regional Council reported on at least 15 rockets that fell in its area, including one that fell inside one of the towns but did not explode.
Israeli police spokesman Micky Rosenfeld said one rocket exploded near a gas station and another near a public library.
Related stories:
The Islamic Jihad's military wing claimed responsibility for the rocket fire, saying its a response to the death of three of their men, who were killed Tuesday in an IAF strike after firing mortar shells at IDF troops. Another Gaza militant group, the Popular Resistance Committees, said they fired several rockets as well.
"The Al-Quds Brigades responded to aggression by a salvo of rockets," a statement from the Islamic Jihad said.
"The Al-Quds Brigades will not break the truce (with Israel), but will retain the right to respond to the Zionist aggression at the right time and the right place," spokesman Abu Ahmad said.
The Islamic Jihad, that said it fired 90 rockets, took advantage of the stormy weather when the IDF's ability to identify and intercept rocket fire is lower.
Chief of Staff Benny Gantz, who is currently in the United States, was receiving constant updates from Deputy Chief of Staff Gadi Eizenkot.
'Code Red' sirens were heard in throughout the western Negev communities, including Sderot, Netivot and in the Shaar HaNegev and Sdot Negev Regional Councils.
Security forces were scanning the area for rockets, and the level of alert has been raised. Residents in the area were instructed to stay in their shelters and secure rooms.
FM: Reoccupy Gaza
"It appears that a rocket salvo came in response to the preventative IAF strike yesterday. we will continue stopping attacks and hitting those who wish to harm us, and will act against them with full force," Prime Minister Benjamin Netanyahu wrote on Facebook shortly after the rockets barrage.
"The number of rockets fired from the Gaza Strip in the last year has been the lowest in a decade, but this is not enough for us. We will continue acting to ensure the security of the people of Israel both in the south and across the country," he added.
Speaking to Sderot Mayor Alon Davidi, Netanyahu promised to "strike terror as hard as demanded in order to restore calm to the south."
"I was helping deliver Purim treat baskets to IDF soldiers serving on the Gaza border when I heard about the rocket attack," Davidi told Ynet, standing where one of the rockets hit his city.
"We are counting on the IDF and the Israel government to know how to hit back at the terrorists who try to disrupt our daily lives with terrorism," he added.
Foreign Minister Avigdor Liberman told Channel 2 there was "no other choice but to take over the Gaza Strip and cleaning house there."
"I don't think we can ignore such an attack, a salvo of 50 rockets. My views are known and clear. After Operations Cast Lead and Pillar of Defense, there is now no other choice but complete occupation of the Gaza Strip, and cleaning house there," he said.
"There are many terror hide outs and thousands of rockets in the Strip, and every day (terror organizations in Gaza) increase weapons smuggling and self-production of bombs, and this is why we need to put an end to it," Liberman added.
"The Islamic Jihad is sending a message to (British premier David) Cameron, who visited the Knesset today and gave a speech in favor of an agreement between us and the Palestinians - 'we are on the map, and we will stop any agreement between Israel and the Palestinians,'" Liberman asserted.
International condemnation
Britain, the United States, Australia and the UN all condemned the rocket attack.
"Let me (be) absolutely clear about these attacks from Gaza, we condemn them completely," said British premier David Cameron, who is currently visiting Israel.
"These attacks are completely indiscriminate aimed at civilian populations and that is a demonstration of how barbaric they are," Cameron added.
The US State Department also joined the condemnation, saying it is "reprehensible that dozens of rockets have been fired today alone."
"There is no justification for such attacks. We call for these terrorist attacks to cease immediately. Israel, like any nation, has a right to defend itself," State Department Spokeswoman Jen Psaki said.
UN Secretary-General Ban Ki-moon deplored "the severe escalation of violence" and urged both sides to exercise maximum restraint to prevent further escalation.
Australian Ambassador to Israel Dave Sharma joined the condemnation, saying on his Twitter page that "such violence reprehensible and without justification."
Mattan Tzuri, Yoav Zitun, Ilana Curiel, Elior Levy, Michal Margalit, Attila Somfalvi, Reuters and AP contributed to this report.