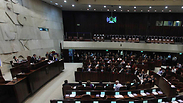 Knesset plenum
Photo: Gil Yochanan
Not unlike the votes on the haredi draft law and the governance act, the controversial Referendum Law also passed in second and third reading Wednesday with the Knesset plenum half empty.

The new law, passed with 68 MKs in favor and none against, ensures that Israeli citizens can vote on any territorial concessions negotiated during peace talks.

The plenum, composed solely of members of Prime Minister Benjamin Netanyahu's ruling coalition, passed the bill into law despite the heavy objections of the opposition, who had demanded longer discussions on the newly-minted Referendum Law – one of three hot-button pieces of legislation passed this week.

The prime minister addressed the Knesset plenum before the vote and expressed his long-time support for the first Basic Law to be added to the books in 22 years. He said he was proud that this current coalition was responsible for finally approving the legislation.

Related stories:

Netanyahu said passing the law "is the right, just, and democratic thing, (it is) the only way to preserve peace among ourselves."

The prime minister said that it was important for Israeli citizens to get a say in any future territorial concessions: "A major diplomatic decision cannot be made without the nation."

The new Basic Law: Referendum, however, does not apply to Judea and Samaria, the two biblical lands which compose the West Bank, as the legislation only affects concessions of "sovereign land" like East Jerusalem or the Golan Heights.

The law could also be circumvented if three-quarters of the Knesset approve the territorial concessions.

The vote marks the end of a contentious week in the Israeli parliament, as the Basic Law: Referendum is the last of the three controversial bills presented by the coalition for approval during the winter session.

Earlier in the day, a near-deserted Knesset approved the haredi enlistment law, which followed the Tuesday approval of the Governance Act.

Political maneuvers by the governing coalition at the beginning of the week – exposed by Ynet – had led the opposition to boycott the plenum in protest of what they defined as anti-democratic measures.