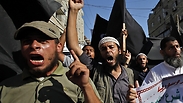 Egypt's military said Wednesday it has destroyed 1,370 smuggling tunnels under its border with the Gaza Strip, as Cairo's ties remain sour with the Hamas movement that rules the Palestinian enclave.

Ties took a turn for the worse after the military's July ouster of Islamist president Mohamed Morsi, who belongs to the Muslim Brotherhood, with which Hamas is affiliated.

The statement did not say when the tunnels were destroyed, but the military has poured troops into the adjacent Sinai Peninsula to counter militancy that has grown since July.

The tunnels, under the town of Rafah, are used to transfer food, fuel and consumer products into the densely populated Palestinian enclave. But Hamas and other militant groups reportedly use their own more secret tunnels to bring in arms and money.

Related stories:

Gaza has been under naval blockade since 2006, after militants kidnapped IDF soldier Gilad Shalit in a cross-border raid.

Egypt accuses Hamas of having colluded with the Brotherhood in carrying out "terror attacks" on its territory in the past few years.

Dozens of alleged Hamas militants have been named among scores of defendants, including Morsi, in trials for organizing jailbreaks and attacking police stations during the 2011 revolt that toppled strongman Hosni Mubarak.

In a separate espionage trial, Morsi and 35 other defendants are accused of conspiring with foreign powers, including Sunni Muslim Hamas and Shiite Iran, to destabilize Egypt.

Hamas has denied Egyptian accusations that it is involved in fighting in the restive Sinai Peninsula.

On March 4, an Egyptian court banned Hamas from operating in Egypt and ordered the seizure of its assets there. The Brotherhood has also been designated as a terrorist organization by Egypt's military-installed authority.