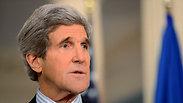 US Secretary of State John Kerry said Wednesday that the level of mistrust between Israelis and Palestinians was the highest he had ever seen.

But he insisted that he was hopeful of reaching "some kind of understanding of the road forward" as he seeks to nail down a framework to guide the stuttering Middle East peace talks.

Kerry acknowledged there were "gaps .... some of them very significant," but stressed they should be seen within the context of the negotiations, saying "I still believe it's possible, but difficult."

"Certain narrative issues are so powerful and so difficult that neither leader is going to definitively cede on them at an early stage of the negotiation," the top US diplomat conceded.

Related stories:

He called them "big-ticket items" which required some trading by both sides.

After bringing the two sides back to negotiating table and ending a three-year freeze, Kerry has been focused on trying to hammer out a framework which is due to set out the end goal of the talks plus guiding principles on each of the core issues.

"The level of mistrust is as large as any level of mistrust I've ever seen, on both sides," Kerry told lawmakers at a Congressional hearing into the 2015 State Department budget request.

"Neither believes the other is really serious. Neither believes that the other is prepared to make some of the big choices that have to be made here."

When the talks were restarted in July both sides agreed to stay at the negotiating table for nine months, but the pressure is on as the deadline looms in late April.

Abbas is due to meet with President Barack Obama on Monday at the White House after similar talks earlier this month between Netanyahu and the US leader.

"Each of them has helped to inch forward," Kerry said.

"And in this particular challenge, inches are acceptable and pretty good and helpful. And we're going to keep moving the way we're moving."