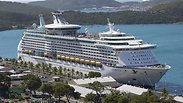 It took less than two days for Norwegian Cruise Lines, headquartered in the warm-water port of Miami, FL, to officially rebuke the country of Tunisia on Wednesday for an incident in which it barred Israeli citizens from disembarking at the port of La Goulette.

The US-based company, co-founded by Israeli businessman Ted Arison, responded to the blatant act of discrimination by cancelling all future port calls to Tunisia.

"We want to send a strong message to Tunisia and ports around the world that we will not tolerate such random acts of discrimination against our guests," said CEO Kevin Sheehan. "We are outraged by this act and the fact that we were not notified in advance of this practice."

Related stories:

Despite the North African country providing the literal spark that ignited the region and engulfed it in the wave of revolutions now named the "Arab Spring", about a dozen Israelis were refused the right to disembark at the Tunisian port on Sunday.
Canadian support
Cruise officials had left the Israeli passengers voicemails warning them against attempting to enter the port at La Goulette, but provided no cause for the concern.

One Canadian passenger, who stayed behind in protest of the Israelis' treatment, told the Toronto-based newspaper the National Post that the cruise staff "was very elusive. They said they got an email from the immigration department in Tunisia stating Israelis were not allowed to get off the ship."

The Canadian government, a vocal supporter of Israel on the world stage, took immediate action: "The Department of Foreign Affairs, Trade and Development is working closely with Canada's Embassy in Tunisia to determine the reason for this refusal.

"Canada's Ambassador in Tunisia has registered Canada's concerns about this incident to the Ministry of Foreign Affairs and with the Interior Ministry," said a spokesperson for Foreign Minister John Baird in an emailed statement to the National Post.

Tunisia has traditionally been one of the few Arab governments with decent ties to Israel. In January the new prime minister even appointed the Jewish owner of a large Tunisian travel agency to head the country's Tourism Ministry.