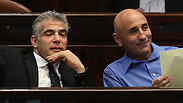 Finance Minister Lapid and MK Ofer Shelach at the Knesset
Photo: Gil Yohanan
Finance Minister Yair Lapid praised the new IDF haredi enlistment law as "revolutionary" after it passed its second and third readings in the Knesset Wednesday.

A half-deserted Knesset passed the controversial piece of legislation, after a political row saw the opposition boycott the vote. The bill passed its final two readings in the plenum with 67 voting in favor and just one against. There were zero abstentions due to the absence of any opposition lawmakers.

"I am thrilled, but not happy," Lapid told Ynet after the law passed, adding that it was now in the hands of the government and the IDF to ensure proper integration of haredim into the army.

Related stories:

"This is a revolution, but from this point on it is our responsibility to make sure that haredim are properly integrated into the army and labor market, and that secular society accepts them."

Lapid harshly criticized the opposition for boycotting the vote, accusing it of "shirking its duties."

Opposition leader Isaac Herzog "shirked his responsibilities and there is no other way to view this absence from the plenum," Lapid said.

"In order to suck up to Shas, the Labor party failed to show up for a vote about an issue as critical as IDF enlistment. (Shas leader Aryeh) Deri manipulated Herzog," Lapid added.

He also warned there would be consequences to the opposition's decision to boycott the vote.

"Those who did not vote in favor of equality in the national burden will not get even one vote from us in the race for the presidency," he said. "One who, for petty political reasons, did not come to support army service and going out to work, and instead preferred to have a photo op alongside Deri and (MK Ahmad) Tibi, cannot be a president and will not get our votes."

The finance minister said that some sections of the law, like a shortened service to the hesder yeshivot, are unacceptable. Despite that, he said, "the national-religious public has been wronged."

"This is a public whose service is meaningful, and after that does years of reserve duty, so attacking them is not fair," he asserted.

The Yesh Atid leader noted that now that the draft law and the governance act have passed, the party will focus on two additional goals in the Knesset's next session: the peace process and the civil unions.

Despite objections from coalition partners Bayit Yehudi, Lapid is confident civil unions will also pass in this Knesset.

"They said we couldn't pass the equality in the national burden law. We got used to the fact that every topic we touch is deemed impossible, and we end up proving everyone wrong. We will strive and work hard to make it happen."