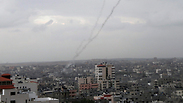 Rocket launch from Gaza, Wednesday
Photo: AP
A rocket fired by Palestinian militants in Gaza fell in an open area in the Ashkelon region on Thursday afternoon. There were no reports of injuries or damage.
The incident comes after an Islamic Jihad official claimed that Egypt had brokered a ceasefire with Israel, after 24 hours of rocket barrages and IDF retaliation. The organization denied that it was behind the attack.
Israel Air Force jets struck targets in southern Gaza Strip earlier in the day, following a morning of rocket fire towards southern Israeli communities. Palestinian sources in Gaza reported that the IAF struck two targets in Rafah: A smuggling tunnel and a cached launching pad.
Prime Minister Benjamin Netanyahu summoned his security cabinet for consultations Thursday. The prime minister, who has been hosting his British counterpart David Cameron, warned Thursday that Israel would not sit idly by while its population came under repeated rocket fire.
"Our policy in the south is clear. We harm those who try to harm us and respond fiercely to any attack," Netanyahu said. "The terrorist groups in Gaza need to understand that they are dealing with a very determined government and a very strong army."
Related stories:
Speaking during a tour of Jerusalem with Cameron, Netanyahu said that Israel would not stand for attacks during the upcoming Purim festival. "I want to make it clear," he said, "we will hit hard at those who try to destroy our Purim joy."
His comments came even as the rocket fire from Gaza resumed, with sirens sounding in the towns of Yavne, Rehovot, Ashdod and Ashkelon on Thursday morning. In light of the wake in rocket fire, Kerem Shalom Crossing has been closed, as well as Erez Crossing, which will only remain open for humanitarian emergencies.
At least one rocket fired at Ashkelon was neutralized by the Iron Dome missile defense system, the IDF confirmed. Two rockets landed in open fields between Ashkelon and Ashdod. There were no initial reports of injuries following the events.
In light of the ongoing rocket fire, Ashdod Municipality decided to send students home from those schools without proper protective shelters.
In a meeting with IDF officials, Defense Minister Moshe Ya'alon said that "those who try to fire towards Israel or will be involved in firing towards Israel will bear the responsibility. The IDF's response last night was the harshest since Operation Pillar of Defense. Terrorist groups in the Gaza Strip will pay a heavy price. We have a wide range of possibilities that we do not hesitate to follow in order to continue and respond forcefully."
President Shimon Peres also stressed that Israel will respond with force to any fire from Gaza Strip. He added that "the rockets were launched by the Islamic Jihad but Hamas is responsible for the fire. Hamas should decide how they want to live – for every fire they will get fire right back, for every cease fire they will get a cease fire back."
According to Peres, "IDF is doing with it should do – attacking dozens of targets in Gaza.
Israeli human rights organization B'tselem said in a statement that "any attack aimed against civilians undermines all rules of morality and law. Hamas in Gaza must take all legal actions at its disposal to stop the rocket fire. All those involved in these attacks bear criminal liability."
The Security Cabinet is expected to convene and discuss the recent escalation in southern Israel, after IDF on Wednesday launched a series of strikes in Gaza in the wake of the rocket fire, hitting more than 30 Islamic Jihad and Hamas targets all across the Strip. Palestinian sources said IAF planes hit two Islamic Jihad bases, one of them in the town Rafah, on the Egyptian border.
Noam (Dabul) Dvir, Attila Somfalvi and Yoav Zitun contributed to this report.