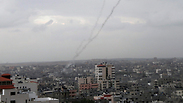 Rocket launch from Gaza, Wednesday
Photo: AP
An Islamic Jihad leader said on Thursday that Egypt had brokered a ceasefire aimed at ending a two-day flare-up between Israel and Palestinian militants in the Gaza Strip.
"Following intensive Egyptian contacts and efforts, the agreement for calm has been restored in accordance with understandings reached in 2012 in Cairo," Khaled al-Batsh wrote on Facebook, referring to a truce that ended an eight-day Gaza war two years ago.
Batsh said Islamic Jihad, a militant group that began launching rockets into Israel on Wednesday after Israeli soldiers killed three of its fighters a day earlier, would hold its fire as long as Israel did the same.
Related stories:
Israeli sources said in response that there is no talk of truce, and that "if we have a ceasefire, Gaza will have a ceasefire." The Israeli officials further stressed they do not hold talks with terrorist organizations.
Egypt, which has brokered previous ceasefires between Israel and militants in Gaza, controls the Rafah border crossing that is Gaza's transit point to the outside world.
'Israeli escalation must be ended'
Palestinian President Mahmoud Abbas on Thursday demanded that Israel halt its "escalation" in the Gaza Strip, after almost 24 hours of heavy rocket fire on Israeli towns by Palestinian militants, and strong IDF responses.

The rocket barrage, which was the heaviest since an eight-day conflict between Israel and Gaza's Hamas rulers in November 2012, sent thousands of Israelis fleeing for cover across the south on Wednesday afternoon.

Abbas on Wednesday demanded Israel "put an end to its military escalation in the besieged Gaza Strip," according to his spokesman Nabil Abu Rudeineh, prompting a furious reaction from Prime Minister Benjamin Netanyahu.

"As the Teva (pharmaceutical) factory in Ashdod is manufacturing medications to be sent to Gaza, over there they are firing rockets at innocent Israelis," Netanyahu told visiting British Prime Minister David Cameron.

"How is it possible that he doesn't condemn the firing of rockets at innocent civilians? But he did condemn Israel for responding and firing at three terrorists who fired a mortar shell at them," he said, referring to Tuesday's border incident.

Cameron, who was to meet Abbas in Bethlehem later on Thursday, said: "I join you in condemning unreservedly the rocket attacks from Gaza."

Two rockets landed in Israel Thursday morning, and school students in Ashdod were evacuated due to fear of further escalation in the region.

After some 60 rocket launches carried out on Wednesday by Gaza-based Islamic Jihad towards southern Israeli communities, IDF launched a series of strikes in Gaza, hitting more than 30 Islamic Jihad and Hamas targets all across the Strip.

Palestinian sources said IAF planes hit two Islamic Jihad bases, one of them in the town Rafah, on the Egyptian border.