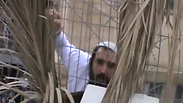 A settler caught on the roof.
Photo: B'Tselem
Rising tensions between Palestinians and settlers in the Israeli-controlled area of Hebron has led to a bizarre incident: A settler that climbed onto the roof of a Hebron resident over the weekend in order to take down a Palestinian flag, was caught in the barbed wire surrounding the rooftop.

He had to wait for an IDF force to come free him, and was documented in the meantime by the house's owner, a Palestinian volunteering with B'Tselem. Later on, the soldiers wanted to help the settler remove the flag from the roof, but because the incident was being documented, they chose to leave without taking any action.

Settler gets caught in barbed wire trying to remove flag (צילום: בצלם)

The incident occurred last Saturday on Shadi Sidr's rooftop. When Sidr asked the settler why he was invading his home, the trapped settler answered: "This roof is mine, this entire country is mine and everything in this country is mine."

Meanwhile, other settlers gathered on the street below, and an IDF force arrived at the scene. The soldiers demanded Sidr to take down the flag, claiming it was forbidden, despite the fact many Israeli flags are seen in the video footage.

During the confrontation with Sidr, the soldiers are heard talking amongst themselves, with one of them saying: "There's no reason we do this by force when there are cameras around."

The force's commander was documented speaking on the phone, saying: "There are cameras here. Do you want me to take it off by force?"

Eventually the soldiers left without removing the flag and promised to return with a warrant.

The IDF Spokesman's Office said in response: "The army has no flag-removal policy and has no intention to take such a policy. This is a local initiative and will be investigated."

The B'Tselem organization said: "The soldiers, responsible for maintaining security in the area, are first and foremost obliged to protect Palestinians who constitute the protected population of the West Bank. It goes without saying that soldiers must not aid and abet settlers trespassing on Palestinians' homes or satisfy the whim of a settler displeased by the sight of Palestinian flag flying in Hebron."