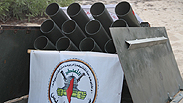 Islamic Jihad rocket launch from Gaza to Israel
The European Union's foreign policy chief Catherine Ashton spoke out Thursday against the rocket attacks from Gaza on Israel, calling for an end to the violence.

"I strongly condemn the recent rocket attacks on Israel, for which the Palestinian Islamic Jihad, which is listed by the EU as a terrorist organization, has claimed responsibility," she said in a statement issued by her office.

"There can be absolutely no justification for the deliberate targeting of innocent civilians, and I call for an immediate end to such acts," said the statement. "The European Union, recalling its support to the consolidation of the ceasefire of 21 November 2012, urges maximum restraint in order to prevent a further escalation and calls for an end to all violence."

Related stories:

Ashton also stressed the importance of continuing the peace talks in order to reach a solution that will satisfy both sides and put an end to the conflict.

"The situation in the Gaza Strip, including the deteriorating humanitarian conditions, underlines once more the urgent need to bring a solution to the conflict," she said. "The on-going negotiations are a unique opportunity to move towards a two-state solution so that Israelis and Palestinians can finally live in peace and security. In this context, I also regret the recent incidents that led to the loss of life in the West Bank. The European Union will continue to work with all those with influence to achieve a peaceful solution."

The Quartet's Middle East envoy Tony Blair reinforced Ashton's statement, and urged Israel and the Palestinians to continue negotiations, despite the escalation of tensions over Gaza rocket fire.

"I don't think even with those rocket attacks that should get in way of pursuing a political process and a political negotiation that allows, under the leadership of the United States, the two sides to come together and to try and describe an outline of what a two-state solution looks like of how a Palestinian state is going to be and to operate and to function," Blair told reporters after meeting British Prime Minister David Cameron in Jerusalem.

The former British leader also called for a revised approach to the coastal strip.

"The strikes from Gaza just underline and illustrate the depth of the problem," he said. "Gaza continues to be under lockdown with extremist groups operating, the people in a desperate situation there and I think one thing we are going to need, medium and long term is a completely new strategy towards Gaza."