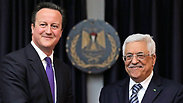 Cameron and Abbas during a press conference in Bethlehem.
Photo: Reuters
BETHLEHEM – British Prime Minister David Cameron said Thursday there were "serious disagreements" and "mistrust" between Israel and the Palestinians, preventing a peace deal.

Echoing concerns voiced by US Secretary of State John Kerry, Cameron said he has witnessed in his visit to Israel and the West Bank "serious disagreements on vital issues that will have to be settled if there ever is to be... a peace deal."

"There's no outcome that's possible where every Israeli is satisfied, where every Palestinian is satisfied. There has to be compromise. And compromise is difficult - compromise takes bravery," he said during a joint press conference with Palestinian Authority President Mahmoud Abbas in Bethlehem.

Related stories:

Cameron said Abbas and Prime Minister Benjamin Netanyahu, whom he met the day before, would "have to take difficult, unpalatable and sometimes unpopular decisions... in order to achieve that peace."

"Until now, we haven't received the framework agreement we were promised," Abbas said.

Israel and the Palestinians have been locked in talks that US Secretary of State Kerry fought hard to kick-start in July after a three-year hiatus, but the negotiations have faltered over key issues.

The negotiations are set to end on April 29, by which date Kerry hopes to have put a framework agreement in place so the two sides can extend their negotiations to work towards a final peace deal.

"When the framework is presented to us, we'll give our opinion on it," Abbas said.

"We have never discussed prolonging the negotiations at all, nor was it offered to us."

Kerry acknowledged on Wednesday that the level of mistrust between Israelis and Palestinians was the highest he had ever seen.

He said there were "gaps... some of them very significant", but stressed these should be seen within the context of the negotiations, saying: "I still believe it's possible, but difficult."

"Certain narrative issues are so powerful and so difficult that neither leader is going to definitively cede on them at an early stage of the negotiation," Kerry conceded.

After bringing the two sides back to the negotiating table, he has been focused on trying to hammer out a framework which is due to set out the goal of the talks plus guiding principles on each of the core issues.

Decades of negotiations have been bedeviled by some of the toughest disputes separating the two sides, such as the fate of Palestinian refugees that fled Israel in 1948.

In recent months, Netanyahu has been insisting that Abbas recognize Israel as "a Jewish state" - something the Palestinians refuse to do, believing that this would irrevocably torpedo chances for the return of refugees.