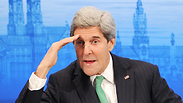 US Secretary of State John Kerry.
Photo: EPA
US Secretary of State John Kerry on Thursday criticized Israel's insistence on Palestinian recognition of the "Jewish state," saying it's a "mistake" to condition talks on that issue.

"I think it's a mistake for some people to be, you know, raising it again and again as the critical decider of their attitude towards the possibility of a state and peace, and we've obviously made that clear," Kerry told the House Committee on Foreign Affairs when asked to clarify the official US administration position on the matter.

The issue of Palestinian recognition of Israel as a Jewish state has lately overshadowed other stumbling blocks over borders, refugees and the status of Jerusalem.

Prime Minister Benjamin Netanyahu was the first Israeli prime minister to make recognizing Israel as a "Jewish" state a central issue of peace negotiations, calling it the root of the conflict between Palestinians and Israelis.

Palestinians reject that claim, underlining that they already recognized Israel in 1993 and saying that enshrining it as a "Jewish state" would jeopardize Palestinian refugees' right to return home.

Related stories:

"'Jewish state' was resolved in 1947 in Resolution 181, where there are more than 40-30 mentions of 'Jewish state,'" the secretary of state told the House Foreign Affairs Committee.

"In addition, (late Palestinian) Chairman (Yasser) Arafat in 1988, and again in 2004, confirmed that he agreed it would be a Jewish state," he added.

While the US has appeared to back the recognition of Israel as a "Jewish state," the State Department insisted Friday that the issue was still up for negotiation.

"If you look at the issue of a Jewish state and whether Israel will be called a Jewish state, that's been our position, as you know, for a long time, but that doesn't reflect what the parties will agree to... and of course there are many issues like that that are being discussed as part of the framework," spokeswoman Jen Psaki said.

AFP contributed to this report.