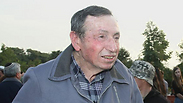 Meir Har-Zion
Photo: Ofer Amram
Meir Har-Zion, one of the most esteemed IDF warriors in Israel's history, passed away Friday at the age of 80. Har-Zion's bravery throughout his military service earned him a Medal of Courage and a reputation as one of the best commanders Israel's military ranks have ever known.
Har-Zion was instrumental in the establishment of the elite IDF retaliation IDF squad Unit 101 together with former prime minister Ariel Sharon, who later described Har-Zion as the "elite of the elite." Former IDF chief of staff and defense minister Moshe Dayan called him "the best soldier ever to emerge in the IDF." Har-Zion was ranked 15th on Ynet's 2005 poll of the 200 greatest Israelis of all time.
Earlier Friday, a Magen David Adom paramedics team was alerted to Har-Zion's Jordan Valley ranch, and were forced to pronounce him dead. He passed as a result of a disease.
Prime Minister Benjamin Netanyahu eulogized the legendary warrior: "He was one of our greatest heroes, a warrior who was filled with love of the land and its people. He pioneered new paths of initiation and boldness in IDF operations and served as inspiration for generations of soldiers that came after him."
Netanyahu added that Har-Zion had helped him during his military service, and that he had played a major part in the establishment of the forces that protect the State.
President Shimon Peres commended Har-Zion for his courage. "There was no one braver than him. Nothing was unacceptable for him, he did not shy away from battles, and his tremendous love for the State of Israel was always persistent. "
In his early military career, Har-Zion served in the Nahal brigade. Thanks to his reputation as someone with in depth knowledge of Israel and the region, he was recruited to the elite Unit 101, a commando unit that was established by former prime minister Ariel Sharon and conducted retaliation attacks against the local Arab population. Over time, Har-Zion became Sharon's partner in leading of the unit.
On October 14, 1953, several months after the founding of the special forces unit, Har-Zion took part in the unit's operation in the village of Qibya in Samaria that resulted in the death of 70 Arabs. The unit was disbanded in January 1954, in part because of the controversial Qibya incident, which some describe as a massacre.
At only 21, at the recommendation of then-chief of staff Moshe Dayan, Har-Zion became the youngest captain in the IDF. One of the most renowned soldiers of Unit 101, Dayan described him as "the finest of our commando soldiers, the best soldier ever to emerge in the IDF."
After the unit was dissolved, Har-Zion and its other members were merged with the paratrooper brigades. In February 1956, he was awarded Medal of Courage for his conduct during Operation Olive Leaves (in December 1955) – a raid against Syrian positions on the north-eastern shores of the Galilee.
The Har-Zion Affair
Har-Zion's name and reputation is not free of controversy – in 1955, he carried out a revenge killing to avenge the death of his sister Shoshana. Shoshana Har-Zion and her boyfriend Oded Wagmeister were murdered by Bedouins from the Azazme tribe when they crossed an area controlled by Jordan during a hike from Jerusalem to Ein Gedi.
While most of the affair's details were hidden from the public, the information that was not published gradually leaked out. Reportedly, after receiving Moshe Dayan and Ariel Sharon's silent approval, Har-Zion and three of his friends crossed the border, seized six Bedouins from the 'Azazme tribe who they claimed were involved in the murder of Shoshana, killed five of them and sent off the sixth man with a message: "Tell your government and tribe that we killed five in exchange for two young Israelis."
Following the incident, the Jordanians filed a formal complaint to the UN. Har-Zion and his friends were detained at the Ness Ziona police station, and a sharp debate was began within the Israeli government concerning what action should be taken against the young men.
Then-minister of justice Pinchas Rosen demanded that they be prosecuted, while Prime Minister David Ben-Gurion was in favor of finishing the case quickly, and refraining from severe punishment. Har-Zion was eventually suspended from the army for several months and later returned to full service.
After a six month suspension, Har-Zion returned to the paratrooper brigade. In September 1956, during a raid on a Khirbet al Rahwa police fort in Jordan, he was severely injured, leaving him unable to continue his military career.
Despite his injury, Har-Zion served as a captain during the Six Day War. In 1969, he published his diaries, where he gave accounts of his military experiences.
Meir Har-Zion was born in 1934 in Herzliya. When he was three years old, his family moved to Rishpon, where his sisters Shoshana and Rachel were born. As a child Har-Zion enjoyed the outdoors, nature and taking hikes.
Har-Zion's days of military actions can be traced back to his teenage years. When he was 17-years-old, he took his sister Shoshana, who was then 14-years-old, to a hike around the Sea of Galilee towards its eastern shores, where local farmers and Syrian soldiers were located. The two siblings' trip ended dramatically in a Syrian prison.
"The interrogators asked me questions I didn't know how to answer," he later recalled. "They beat my feet. It was very painful." Meir and Shoshana were held prisoner at a Damascus prison, and were released back to Israel after a month of negotiation by the UN and Red Cross.