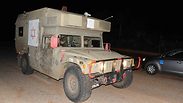 IDF forces near Lebanon border
Photo: Avihu Shapira
An improvised explosive device was detonated Friday night targeted an IDF force near the border with Lebanon, as it was patrolling in the Shebaa Farms area. The patrol, which included several reconnaissance vehicles, was hit by the IED, but no casualties were reported.

The military jeep was damaged, and three soldiers were evacuated to the Ziv Medical Center in Safed to rule out any blast injuries. The IDF explored the possibility that the incident was a kidnapping attempt but has since rejected the scenario.

The IDF responded with an artillery barrage on Hezbollah outposts within Lebanese territory. The retaliatory fire was undertaken from two locations: tanks deployed in the northern town of Metula which targeted outposts in southern Lebanon and artillery units which arrived on scene and launched artillery rounds on areas near the border.

IDF forces near border after IED detonation (Video: Avihu Shapira) (צילום: אביהו שפירא)

A senior military official said "Hezbollah was involved and Hezbollah will be hurt." The official clarified that the IDF has also contacted UNIFIL forces in the area, who are in touch with Lebanese officials in a concerted effort to prevent an escalation in the region.

Related stories:

Hezbollah-affiliated Lebanese television channel Al-Manar reported that the IDF has retaliated with artillery fire at an outpost in Lebanese territory. Other Hezbollah-affiliated news sites claim that the IDF fired at least five rounds.

The tense border had another alert earlier this month, when an IDF force identified two armed men attempting to place an explosive device near the security fence in the northern Golan Heights.

The force opened fire towards the suspects and called in artillery support, which identified a direct hit. Military officials noted that the terror cell did not cross the border: "It appears to be subversive activity directed by Hezbollah. Two Hezbollah fighters were shot."

The IDF did not report any casualties from the incident, but chose to set up check-points in the area to prevent any potential risk to civilians.

Last month, two rockets were fired towards Mount Hermon. Local residents reported hearing loud explosions overnight, leading some to suspect a Syrian origin for the ruckus.

The following morning that suspicion was confirmed when two rocket remains were discovered near an IDF outpost. There were no casualties and no material damage.

It was never determined whether the incident was a case of a rocket meant for participants in Syria's civil war gone astray or a Hezbollah response to an IDF attack on a weapons convoy near the Syria-Lebanon border.