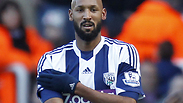 Anelka performing the quenelle
Photo: AFP
VIDEO - Striker Nicolas Anelka announced he has terminated his contract with Premier League club West Bromwich Albion with immediate effect on Friday after being suspended for five matches by the Football Association for a controversial goal celebration.

The former France forward, whose career has been marred by controversies, was suspended last month for performing a gesture which is known in France as a "quenelle" and regarded as anti-Semitic.

Video courtesy of jn1.tv

Anelka said on his Twitter account on Friday that he decided to leave the club because he could not accept West Brom's conditions for being allowed back into the squad.

"Proposals have been made for me to rejoin the group under certain conditions that I can't accept," Anelka said in French on his 35th birthday. "Wishing to keep my integrity, I took the decision to free myself and end the contract linking me with West Bromwich Albion until 2014, with immediate effect."

In January, Anelka hinted that he could end his career at the end of the season but also mentioned interests from clubs including Lazio in signing him.

Related stories:

Anelka performed the quenelle as he celebrated scoring in West Brom's 3-3 draw with West Ham last December. The gesture involves pointing one straightened arm downward while touching the shoulder with the opposite hand. It was popularized by French comedian Dieudonne M'Bala M'Bala, who has been convicted for inciting racial hatred and anti-Semitism.

After his suspension was announced at the end of last month, both Anelka and West Brom decided not to appeal the sanction. In Anelka's witness statement, the striker said he became aware of Dieudonne in about 2000, met him once, and watched recordings of his shows. He said he made the gesture "purely to say hello to my friend."

Anelka, who had previously been photographed performing the salute, joined West Brom last summer after two disappointing seasons at Shanghai Shenhua and Juventus.

The former Arsenal, Liverpool, Manchester City, Bolton and Chelsea player is one of the most talented and controversial players France has produced since former Manchester United great Eric Cantona.