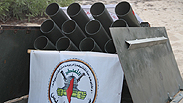 Islamic Jihad showcases new rocket launching pad
Palestinian terror organizations in Gaza have yet to display their actual missile capabilities, Iranian Defense Minister Hossein Dehqan told the semi-official Iranian news agency Fars on Saturday.

"The resistance forces have fired over 150 missiles against the occupied territories in the last four days and after the assassination of a number of resistance commanders by the Zionist regime in Gaza and the West Bank," Dehqan said.

He warned that "the operational power of the Resistance against the Zionist regime is a thousand times more than what it was before."

Related stories:

Palestinian terror organizations in the Gaza Strip, led by Islamic Jihad, have fired a barrage of rockets at Israel on Wednesday, Thursday and Friday following the death of three Islamic Jihad members in an Israel Air Force strike.

The army killed the three terrorists on Tuesday after they were firing mortar shells at IDF troops on the ground.

On Wednesday alone, more than 60 rockets have reached communities in southern Israel near the Gaza border.

The army attacked dozens of terror targets in response, leading Islamic Jihad to announce on an Egyptian-mediated truce with Israel based on the ceasefire mediated at the end of the November 2012 Operation Pillar of Defense.

Israel has denied reaching such a truce with Islamic Jihad, and announced that "calm will be met with calm."