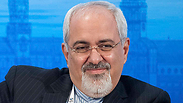 Iranian Foreign Minister Mohammad Javad Zarif
Photo: Reuters
Iran's foreign minister said Sunday his country does not expect to cement a final deal in the coming round of nuclear talks with world powers.
The two sides are to meet again in Vienna on Tuesday to try to build on an interim agreement reached late last year in Geneva by reaching a final settlement of the decade-old dispute over the Islamic Republic's atomic activities by late July.
"This round of negotiations compared to the previous ones will be more serious and tougher," Mohammad Javad Zarif said, speaking to reporters after meeting his Belorussian visiting counterpart, Vladimir Makei.
"We don't expect to reach a deal in this round of talks. Nor was a deal on the agenda for this round of talks. We have agreed to discuss a number of issues in this round," he added.
Related stories:
Zarif said Tehran and world powers will discuss "dimensions" of Iran's nuclear activities like uranium enrichment, a heavy water reactor as well as sanctions in the Tuesday and Wednesday talks in Vienna.
"We will also discuss international cooperation in the field of peaceful nuclear technology," Zarif said.
None was expected so soon in the new round of negotiations, Western diplomats said earlier. The six powers and Iran have set a deadline of late July to reach a long-term agreement.
Iran capped uranium enrichment after a deal in November for a six month period, in return for easing sanctions by the West.
That interim agreement is meant to lead to a final accord that minimizes any potential Iranian nuclear weapons threat in return for a full lifting of sanctions.
Meanwhile, most of Iran's 290 parliamentarians came out strongly on Sunday against putting any limits on the Arak heavy water reactor, which remains under construction.
"They (negotiators) should not accept any bans on the development of the Arak heavy water complex and the fact of enrichment," said a statement signed by 220 MPs and carried by the semi-official Mehr news agency.
The Arak reactor, seen by the West as a potential source of plutonium for nuclear bombs, has emerged as a big stumbling block in Iran's talks with the United States, Britain, France, Germany, Russia and China on a deal that would define the overall scope of the Islamic Republic's nuclear program.
They lawmakers also said Iranian negotiators should not accept any discussion of the country's military and missile programs, which Tehran says have no connection to its nuclear program.
They urged Tehran's negotiators not to withdraw from the "rights of the Iranian nation." Iran says it has the right under the UN's Non-Proliferation Treaty to enrich uranium.
Many Iranian hardliners believe the Iranian team has given too many concessions to the West in return for too little.
The West suspects Iran's nuclear program has a military dimension. Tehran denies the charge saying its nuclear program has aimed at peaceful purposes like power generation and medical treatment.
Associated Press and Reuters contributed to this report.