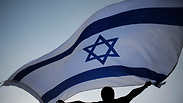 Illustration
Photo: Reuters
Security forces in the city of Suhaj in southern Egypt arrested a 24-year-old man who was corresponding with an Israeli citizen on Facebook, al-Youm al-Sabaa reported on Sunday.

The man is suspected of adding "Israeli pages" to his account, such as pages about the Mossad and the IDF Spokesman.

The man also allegedly criticized Egypt and attempted to travel to Israel through Sudan.

The paper also reported that the man has a Star of David tattoo on his arm, and that a search of his home uncovered a Hebrew-Arabic dictionary.

According to the report, the man reached the Israeli embassy in Cairo in an attempt to get a visa to Israel, claiming he wants to visit Jerusalem, but was unsuccessful.