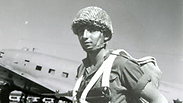 This picture tells the whole story, the image of a generation slowly disappearing, a generation that fought and formulated the military tradition of an entire nation.
From Moshe Dayan, to Ariel Sharon and Rafael Eitan, they are all there - standing there, looking straight into the camera, in the same way they looked death straight in the eye countless of times only to have it blink first. That is, until their final encounter, when death had the upper hand.
Meir Har-Zion was the last of the nine men in the picture to go, the last witness to a generation of giants which once was and is now no more.
In different times, in another, earlier era, the passing of Meir Har-Zion would have made front page news and topped the news cycle. The country would deeply grieve the loss. Various media outlets would be filled with stories from friends, tales of military exploits, and words of appreciation, lamenting the man that was and is now gone.
And indeed, in the mid 50's of the previous century, he was considered a legend. Children were named after him. Fighters swore they would attempt to follow in his footsteps in their military service.
Although there are many in the IDF who dreamed of being "Meir Har-Zion" - with all due respect to the others - to this day, no one has come close to resembling the legendary war hero. He was the kind of man about whom people would say that the Creator destroyed the mold - broke the "pattern" - after creating him.
Farewell
Meir Har-Zion, former IDF commando and prominent member of Unit 101, passed away Friday at the age of 80. PM Netanyahu: 'He was one of our greatest heroes.'
However, times have entirely changed: Security is once again not our top concern. The legendary men of Meir Har-Zion's calibre serve as proof for the cliché old saying "old soldiers never die, they just fade away." Har-Zion himself faded away over the years. Last Friday, he also passed away.
The few of his friends that are still alive came to his funeral Sunday, aided by a walking stick or a Philippine caretaker. The State of Israel forgets its idols, that were once its heroes: Recently, Har-Zion's comrades, who all belonged to the same period of nation-building and establishment of its security, have passed away, including Aharon Davidi and Danny Matt, who were preceded by Mordechai "Motta" Gur, Rafael "Raful" Eitan and others. Who still remembers them?
Meir Har-Zion belongs to times that were immensely different from today. Those were the days of "an eye for an eye", "Arabs only understand force", Ben Gurion, Ariel Sharon, Qibya, Nahalin, Rafah and Gharandal. Those were the times in which infiltrators were murdered and Palestinian "fedayeen", days when babies were shown no mercy, when Unit 101 would engage in payback operations, and paratroops that attempted to distinguish between their victims to their comrades and were not always successful.
Avraham "Yair" Stern, founder of militant Zionist group Lehi, was adept at describing those times long before they took place: "The red days of riots and blood".
In those days, Har-Zion stood out for his excellent, one-of-a-kind fieldcraft skills, his talent for navigation, understanding the field and courage of heart. He was quick to earn the reputation of the number one fighter. People throughout the small nation regarded him with an admiring stare.
As Chief of Staff, Moshe Dayan further elevated Har-Zion's reputation as an esteemed fighter. His stubbornness in avenging the murderers of his sisters increased his fan base considerably, even though he violated state laws.
The severe injury he sustained in the payback operation in Jordan and the extraordinary story of how he was saved (according to legends, Dr. Morris Ankelevic performed field surgery on his throat using a pocketknife, courtesy of Friends of the IDF) had finally ejected him from the ranks of those fighters, but had also made Meir Har-Zion second to God in the eyes of a public that constantly seeks a hero. The news that leaked out over the years about the aid he provided to Sayeret Matkal and other commando units only further glorified the legends.
Meir Har-Zion had finally claimed full possession of the title of IDF's "father of commando units, and special and elite forces". His devotion to the values of those days, his refusal to acknowledge the changed times, his stubbornness in holding on to the complete land of Israel, the aversion and contempt he felt for the debauched lifestyle and his ascetic principles of living made him an idol among the right-wing youth.
Today he was buried in the ground he so revered and loved. The big question remains as to how history will remember him.