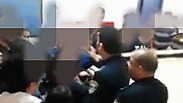 Clash between students and officers
Students from the Abu Ghosh High School threw chairs and hit Jerusalem police officers with tear gas on Sunday, in an attempt to stop the policemen from arresting one of their teachers.
The incident erupted when officers from the Harel police station in the capital were called to the high school after the school principal reported that a riot had broken out in the school corridors when a teacher who was fired from her job arrived at the scene. Police said that an officer who arrived to detain the teacher for questioning was attacked by students from the school.
Additional police forces were rushed to the spot as reinforcement, which further escalated the incident and renewed the tumult between the students and officers. According to the police, students sprayed them with tear gas, hurled stones and began throwing objects and backpacks at the officers.
A video filmed during the incident shows officers attempting to pull away the hand-cuffed teacher while the students attempt to stop the officers.
Video of clash between students and officers
The clash intensified in one of the school's hallways, where two officers who were being attacked tried to keep the students at bay. A backpack and what appears to be another backpack were thrown at the head of one of the officers.
Police officers dragged the teacher away while trying to protect themselves from objects that were being thrown at them by the students. Three officers sustained light injuries and police forces stayed at the scene for some time until the situation calmed down.
Related stories:
One of the high school students shared his account from the scene: "There was a two-week-long dispute between the principal and the teacher. The officers entered the school and began to arrest the teacher, we tried to protect her and a brawl with the officers started.
"There was tear gas, girls were suffocating, it looked like it was taken from an action movie. Students were suffocating from the gas, everyone was coughing. Miraculously no one was hurt," the student added.