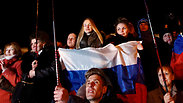 Pro-Russia supporters in Crimea
Photo: Reuters
MOSCOW - Crimea's parliament applied to become part of Russia on Monday, a day after a referendum in the southern Ukrainian region showed near blanket support for joining the Russian Federation.

The parliament "made a proposal to the Russian Federation to admit the Republic of Crimea as a new subject with the status of a republic," according to a statement on its website.

A Crimean parliamentary delegation was expected to arrive in Moscow on Monday to discuss the procedures required for the Black Sea peninsula to become part of the Russian Federation.

Meanwhile, Ukraine's parliament, seeking to boost the country's military force in the face of the Russian takeover of Crimea, endorsed Monday a presidential decree to carry out a partial mobilisation involving 40,000 reservists.

Andriy Parubiy, Secretary of the National Security and Defence Council, told parliament that 20,000 reservists would be deployed within the armed forces and the rest would be used within the newly-created National Guard.

Just two weeks after Russian troops seized their peninsula, Crimeans voted Sunday to leave Ukraine and join Russia, overwhelmingly approving a referendum that sought to unite the strategically important Black Sea region with the country it was part of for some 250 years.

The vote was widely condemned by Western leaders, who planned to move swiftly to punish Russia with economic sanctions. European Union foreign ministers on Monday took a step toward imposing more sanctions on Russia.

The 28-nation EU condemned the Crimea referendum, and the EU foreign ministers were expecting to have agreed a full list of individuals to target for asset freezes and travel bans by late Monday.

Because Russian support of the secession of Crimea has continued unabated, "sanctions will become inevitable," said Dutch Foreign Minister Frans Timmermans.

British Foreign Secretary William Hague hinted more measures against Russia could be taken at a summit of EU leaders starting Thursday, further widening the rift between the wary trading partners that had been seeking closer contact for years until the Ukraine crisis.

The United States is also prepared to impose additional penalties on Russia. US President Barack Obama told his Russian counterpart Vladimir Putin in a phone call on Sunday that the United States rejected the results of the referendum, and warned that Washington was ready to impose sanctions on Moscow.

EU ministers have, however, suggested they wanted to keep any punitive measures from being too drastic, hoping to keep Russia within diplomatic earshot to find a solution to the crisis.

German Foreign Minister Frank-Walter Steinmeier said any measure must leave "ways and possibilities open to prevent a further escalation that could lead to the division of Europe."

Steinmeier pushed again for Russia to accept the sending of an impartial observer mission to eastern and southern Ukraine "to observe closely whether Russia is still active beyond Crimea and destabilizing Ukraine."

The EU has already suspended talks with Russia on a wide-ranging economic pact and a visa agreement. Following the likely travel bans and asset freezes of key individuals involved in the secession, EU leaders could start slapping economic sanctions on Russia this weekend.

"I hope the Russians will realize that sanctions will hurt everyone, but no one more than the Russians themselves," said Timmermans.