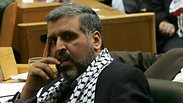 One of the core issues in the negotiations between Israel and the Palestinians came to light in a surprising manner at an Islamist conference in Tehran when an Islamic Jihad leader quoted the popular Hebrew song "Jerusalem of Gold."

The secretary-general of Palestinian Islamic Jihad, Ramadan Salah, used the iconic Naomi Shemer composition to contextualize the importance of Jerusalem to Israelis: "There is a song the Zionist army sang when it conquered the Al-Aqsa mosque. It is called Jerusalem of Gold."

"Every child in the Zionist entity and every soldier in that cursed entity memorizes the lyrics to this song," he explained to the conference-goers, and "many well-known Western artists have sung it in English."

Popular American rock band Phish performs "Jerusalem of Gold":

During his speech Salah claimed that the fight for Jerusalem will remain central to the Palestinian national struggle, and that there will not be stability in the world until the Palestinian right to Jerusalem is restored.

Salah urged the conference participants – and, by extent, the Islamic world – to consider what Jerusalem means to them. He called on all Muslims to study not only about the rockets and arms that Iran provides them, but also about the Zionist entity and its culture.

"What is the significance of Jerusalem in our culture?" Salah asked the crowd. "What is its significance in our religion?"

Related stories:

Salah criticized the Islamic public for not watching news items related to Jerusalem and attempts to Juadize the city by Israel.

During his speech Salah attacked US Secretary of State John Kerry's efforts to reach a framework agreement between Israel and the Palestinians, saying there is a hidden danger in recognizing Israel as a Jewish state.

"Do you know what it means to recognize a Jewish state? It means we recognize that Jerusalem is Jewish, that the Al-Aqsa mosque is Zionist, and the Church of the Holy Sepulchre is Zionist," he told the audience.

"Do any of you agree to this?"