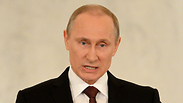 Crimea must be part of Russia, but Moscow does not seek any further divisions of Ukraine, Russian President Vladimir Putin told parliment in a special address on the issue Tuesday.
Putin and two Crimean leaders signed a treaty on Tuesday on making the Ukrainian Black Sea peninsula a part of Russia.
The signing in the Kremlin came two days after Crimeans voted overwhelmingly to secede from Ukraine and join Russia in a referendum condemned by the Ukrainian government, the United States and the European Union as illegitimate.
Crimea's accession still requires the approval of Russian parliament, parliamentary officials say.
This week's Crimean referendum on becoming part of Russia was held in full accordance with democratic procedures and international law, Putin said in his address, answering international critics who have denounced the vote as illegal.
Crimea on Sunday voted overwhelmingly to secede from Ukraine and seek to join Russia. The hastily called vote was held two weeks after Russian troops had overtaken the Black Sea peninsula. The West and Ukraine described the referendum, which was announced two weeks ago, as illegitimate.
The new Ukrainian government is illegitimate, and stole power in a coup, opening the way for "extremists" who would stop at nothing to determine the future of Ukraine, Putin said Tuesday.
"Those who were behind recent events, they were ... preparing a coup d'etat, another one. They were planning to seize power, stopping at nothing. Terror, murder, pogroms were used," he told the joint session of parliament, calling them "nationalists, neo-Nazis, Russophobes and anti-Semites".
"It is primarily they how are deciding how Ukraine lives today. The so-called Ukrainian authorities introduced a scandalous law on the revision of the language policy, which directly violated the rights of the national minorities."
However, the president stressed that strong ties with the Ukrainian people would always be a key concern for Russia.
"Relations with Ukraine and the brotherly Ukrainian people have always been, remain, and will always be most important and crucial for us, without any exaggeration," he said.
The Russians in Ukraine are fed up with the Ukrainian government, he claimed. He compared Crimea's move to Ukraine's own 1991 declaration of independence from the Soviet Union.
"There was no armed clash in Crimea, why was that?" he asked.
Punishing Putin
The United States and the European Union on Monday announced asset freezes and other sanctions against Russian and Ukrainian officials involved in the Crimean crisis. US President Barack Obama warned that more would come if Russia didn't stop interfering in Ukraine.

France's Foreign Minister Laurent Fabius said on Europe-1 radio Tuesday that leaders of the G8 decided to suspend Russia's participation, and it is envisaged that all the other countries, the seven leading countries, will unite without Russia."

The other seven members of the group had already suspended preparations for a G-8 summit that Russia is scheduled to host in June in Sochi.

Former Soviet President Mikhail Gorbachev, however, hailed Crimea's vote to join Russia as a "happy event." Gorbachev, in remarks carried Tuesday by online newspaper Slon.ru, said Crimea's vote offered residents the freedom of choice and showed that "people really wanted to return to Russia."

Gorbachev added that the referendum set an example for people in Russian-speaking eastern Ukraine, who also should decide their fate.

The decree signed by Putin and posted on the official government website Tuesday morning is one of the steps to formalize the annexation of Crimea. Putin was set to address both houses of the parliament at 3 p.m. Moscow time (1100 GMT) in a nationally televised speech where he was widely expected to stake Russia's claim on Crimea and spell out his further policy in the Ukrainian crisis.

Putin has warned that he would be ready to use "all means" to protect Russian speakers in eastern Ukraine, and Russia has built up its forces alongside the border between the two countries, raising fears of an invasion.

Ukraine's Prime Minister Arseniy Yatsenyuk said in a televised statement that Ukrainian law-enforcement agencies have gathered "convincing evidence of the participation of Russian special services in organizing unrest in the east of our country."

Many in the ethnic Tatar minority in Crimea were wary of the referendum, fearing that Crimea's break-off from Ukraine would set off violence against them.

Crimean Deputy Prime Minister Rustam Temirgaliyev seemed to confirm those fears, saying in remarks carried by the RIA Novosti news agency that the government would ask Tatars to "vacate" some of the lands they "illegally" occupy so authorities can use them for "social needs."

The Russian State Duma, the lower chamber of parliament, on Tuesday unanimously passed a resolution condemning U.S. sanctions targeting Russian officials including members of the chamber. The chamber challenged President Barack Obama to extend the sanctions to all the 353 deputies who voted for Tuesday's resolution, suggesting that being targeted was a badge of honor. Eighty-eight deputies left the house before the vote.

Crimea had been part of Russia since the 18th century until Soviet leader Nikita Khrushchev transferred it to Ukraine in 1954. Both Russians and Crimea's majority ethnic Russian population see annexation as correcting a historic insult.

Ukraine's turmoil, which began in November with a wave of protests against President Viktor Yanukovych and accelerated after he fled to Russia in late February, has become Europe's most severe security crisis in years.