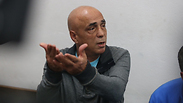 Eitan Haya
Photo: Motti Kimchi
New York crime boss Eitan Haya was arrested in Israel last month for his suspected role in a slew of crimes ranging from arms possession to a high-profile extortion scheme involving a senior figure in Israeli soccer.

Haya, 62, from Bat Yam, used to stand at the head of the New York Gang, a group comprised of a number of Israeli criminals who were involved in trafficking cocaine and heroin to New York, and served time in both US and Israeli prisons.

Haya is being investigated for his role in extorting an owner of an events' hall, and he is being suspected of threatening and extorting other business owners as well.

Tuesday a Tel Aviv Magistrate Court extended his remand by an additional eight days and cleared his name for publication.

In the preceding investigation, police learnt that over the last two years, Haya and a group of other men allegedly attempted to shake down a number of businessmen, and in some cases even take over their business. The group used violence to threaten their victims and in one case even used live fire arms and a fragmentation grenade.

The arrest of seven other men involved in the case was also extended, after Tel Aviv District Police raided the houses of some 20 people involved in the extortion case Monday.

A prominent wheeler-and-dealer from the world of Israeli soccer is also involved in the case and is expected to be sent before a judge Tuesday as well.

Haya's lawyers claim that he handed over a NIS 15 million declaration of capital to the authorities, which they claim reveal that Haya is owed large sums of money. Regarding extortion claims, his lawyer said that Haya asked potential partners for cash as an advance to show their commitment to mutual business ventures and did not attempt to threaten them.

Haya was arrested last month in relation to another incident in which he was suspected of possessing illegal arms in his Ramat Gan apartment. Police raided his residence and found materials which could be used to build explosives.

The investigation into Haya began after a grenade thrown at a Rishon Lezion house was discovered to be a result of gangland infighting.