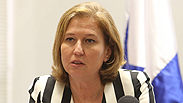 Tzipi Livni
Photo: Gil Yohanan
Israel told Palestinian President Mahmoud Abbas on Tuesday it might not carry out a final stage of a Palestinian prisoner release unless he commits to prolonging peace talks beyond a US-set April deadline for a deal.

Israel's chief negotiator, Tzipi Livni, issued the warning just a day after Abbas, at a White House meeting with US President Barack Obama aimed at keeping the talks alive, voiced hope the prisoners would go free by March 29.

Related stories:

"There was never any automatic commitment to release prisoners unrelated to making progress in negotiations," Livni said in a speech in southern Israel that could complicate Washington's efforts to salvage peacemaking.

She was referring to Israel's agreement, as part of US efforts to revive Palestinian statehood talks frozen for three years, to free 104 inmates jailed for attacks, many of them deadly, against Israelis before a 1993 interim peace deal.

Israel has freed more than 70 of those prisoners since the negotiations resumed in July. But the talks have made little progress and Washington is trying to set guidelines to keep them going beyond the original April 29 target date for an accord.

US officials fear the negotiations could break down if Israel fails to free the final batch of prisoners. Palestinians regard brethren jailed by Israel as heroes in a quest for an independent state in the occupied West Bank, East Jerusalem and Gaza Strip. Israel views them as terrorists.

"The key to the door for Palestinian prisoners is in Abu Mazen's hands," Livni said, using Abbas's nickname.

An Israeli official, speaking on condition of anonymity, said that Israel wanted assurances that Abbas wouldn't walk out of the talks once the prisoners went free.

Netanyahu, who met Obama in Washington two weeks ago, has said any peace deal with the Palestinians would take at least another year to negotiate should both sides accept US-proposed principles to keep the talks going.

"We need to be sure the negotiations will last beyond the release of prisoners, and that they will be substantive, and on solid ground," the official said.

Another stumbling block, the official said, is a Palestinian demand that Israeli Arabs convicted of deadly attacks on Jews be included among those due to go free this month.