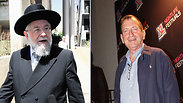 Rabbi Israel Meir Lau and Ron Huldai
Photo: Shaul Golan, Anat Mosberg
Tel Aviv's Chief Rabbi Israel Meir Lau slammed City Mayor Ron Huldai for his bid to allow businesses to operate within the city on Saturday, the Jewish day of rest.

Out of respect of observant Jews and in accordance with the Jewish character of the State, Tel Aviv, like many other cities in Israel, respects the Shabbat and does not allow businesses or public transportation to operate in the city.

Related stories:

The city's chief rabbi sent a letter to the mayor on Monday, nothing that "this is the breaking of the pattern of the city's life since its establishment 105 years ago. Let us consider what is at stake in the decision that stands before you."

Rabbi Lau added that he had never before turned to the mayor. "I am going out of my way because the cry of Shabbat breaks through the walls of my heart and I cannot remain silent."

Huldai replied to the letter on Tuesday and stressed that only one percent of service-providing businesses could operate, and only in places and areas where their operation does not cause disturbance.

Last month Tel Aviv's city council authorized a new proposal which paves the way for regulating business operation on Saturday. The municipality has defined several stores that would remain open in every central street, in accordance with the number of grocery stores currently running on Saturday. The bill is expected to pass within the city council in the future, and only afterwards – if it gets approval by the Interior Ministry – it will take effect.

Rabbi Lau, who served as Israel's chief rabbi in the past, further wrote in his letter to Huldai that "many are desecrating Shabbat in the city today, but the proposal will not only cause the desecration of Shabbat, but its elimination altogether. Please consider the owners of smaller grocery stores whose income is entirely deprived when Shabbat violators provide food on Saturdays and holidays."

Deputy Mayor Asaf Zamir said in response: "The Tel Aviv Municipality did not choose to have this discussion; it was forced to do so by the High Court of Justice. For years, the city has managed to create a reality that generally pleases all parties involved. We did not use the High Court of Justice decision to do anything dramatic. But such a debate in Israel is dramatic and I understand the issue's sensitivity, as well as Rabbi Lau's sensitivity. The city has a pluralist-secular majority. No one is complaining about cafes that are open on Saturday. What we're doing is expanding the services given in the city by grocery stores to the weekends as well."