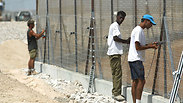 Palestinians at the West Bank separation fence (Archive)
Photo: Meir Fartush
HEBRON — IDF troops shot dead a Palestinian teenager in the southern West Bank on Wednesday, after he and two others were trying to sabotage the West Bank separation fence.
"Earlier today three suspects sabotaged the security fence in Deir al-Asal al-Tahta, southwest of Hebron," an IDF spokeswoman told AFP, saying troops had verbally warned them away from the area then fired warning shots in the air.
When that did not work, troops "fired towards the lower extremities of the main instigator," she said, confirming he was hit.
Related stories:
"He was evacuated to an Israeli hospital where he died of his wounds."
There were conflicting reports on where the incident took place, with the IDF saying it occurred near Deir al-Asal al-Tahta, and the Palestinians saying it happened near the al-Ramadin village.
There were also contradictory reports on the identity of the Palestinian who was killed. AFP and Palestinian news agency Ma'an quoted a Palestinian security source who identified the Palestinian as 15-year-old Yussef Sami Shawamreh. AP quoted Palestinian police who identified the man as a 21-year-old from a village near the city of Hebron.