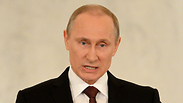 A senior Russian diplomat says Moscow may change its stance in the Iranian nuclear talks amid tensions with the West.

Deputy Foreign Minister Sergei Ryabkov was quoted Wednesday as saying by the Interfax news agency that Russia didn't want to use the Iranian nuclear talks to "raise stakes," but may have to do so in response to the actions by the United States and the European Union.

The statement is the most serious threat of retaliation by Moscow after the U.S. and the EU announced sanctions against Russia over the Ukrainian crisis.

World powers have not seen any impact so far from tension with Russia over the Ukrainian region of Crimea on nuclear talks with Iran, a spokesman for the European Union's foreign policy chief said on Tuesday.

Related stories:

The powers - the United States, Russia, China, France, Britain and Germany - adjourned a new round of nuclear talks described as "substantive and useful" Wednesday, only two day after Washington and the EU imposed sanctions on Russian officials. Talks are set to resume April 7 in Vienna.

The two sides spoke at the end of two days of negotiations focused on curbing Tehran's atomic activities in exchange for full sanctions relief. Their joint statement was read by EU foreign policy chief Catherine Ashton, who speaks for the six countries negotiating with Iran, and Iranian Foreign Minister Mohammed Javad Zarif.

"I haven't seen any negative effect," spokesman Michael Mann told reporters on Tuesday while talks were still in full swing. "We continue our work in a unified fashion".

The talks ended in deadlock with the two sides at odds over Iran's Arak nuclear reactor, which Western powers fear could yield weapons-grade plutonium.

"It's a gap (on enrichment) that's going to take some hard work to get to a place where we can find some agreement," a senior US administration official said after the latest round of negotiations on Iran's atomic program in Vienna.

However, Tehran's foreign minister voiced optimism that their July 20 deadline for a deal is within reach.