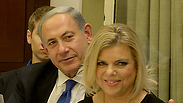 Benjamin and Sara Netanyahu
Photo: Avi Ohayon, GPO
A suit against Prime Minister Benjamin Netanyahu and the Prime Minister's Office has been filed with the Jerusalem District Labor Court by a former body guard and superintendent of the Prime Minister's Residence who claims he was exploited and mistreated by his high-ranking employer.

The suit, first published by Channel 2, claimed that Meni Naftali was exploited and his rights were trampled on while he was working for the Netanyahus' official household staff. He is now suing for millions of shekels in compensation.

In the complaint, Naftali claimed "The Netanyahu family treated me in a patronizing and condescending way, the worst part being the uncontrollable tongue-lashings by the prime minister's wife, Sara Netanyahu."

He further claims that in addition to the harsh treatment, he was not paid overtime for the long hours he had to be on call, and further claimed that the official residency did not make good on a promise to offer him a permanent spot on their staff, despite explicit promises to do so.

Related stories:

Most of the suit, much like the Channel 2 report, focused on long and detailed experiences Naftali claims he and other household workers were forced to endure, specifically at the hands of Sara Netanyahu.

"In one case," his lawyers wrote, "the prime minister's wife woke Mr. Naftali (who slept in the residence) at 3 am while screaming at him for buying milk in a bag instead of a carton – as she had demanded. When the plaintiff complained at the hour and her tone, Mr. Netanyahu got involved and demanded that he do whatever Ms. Netanyahu demands, so she 'would calm down.'

"Needless to say," the lawyers added, "that such a demand at such an hour from the prime minister is threatening."

The suit also described the poor situation within the official household. "Over the 20 months Mr. Naftali was employed," his lawyers wrote, "some 29 workers ended their employment on a bad note."

In another case described by his lawyer, Naftali claimed that Sara Netanyahu threw a vase of flowers on the floor in anger after she noticed that the flowers it held were not fresh, and screamed at him that "he was a poor manager and that such a thing would never happen at the Élysée Palace."

In response, the Prime Minister's Office said "this is nothing but pathetic gossip-mongering intent on sullying the (prime minister) and extracting money illegally from the PMO."